The information in this blog was gathered from the website: www.feldenkrais.com. The following are service marks, trademarks, collective, or certification marks of the Feldenkrais Guild® of North America in the US: Feldenkrais Guild®, Feldenkrais®, Feldenkrais Method®, Functional Integration®, FI®, Awareness Through Movement®, ATM®, Guild Certified Feldenkrais Teacher®, GCFTCM, Guild Certified Feldenkrais PractitionerCM, GCFPCM, Certified Feldenkrais Awareness Through Movement TeacherCM, CFATMTCM, Feldenkrais JournalTM, Friends of FeldenkraisSM, and FGNA Feldenkrais Method Logo.

The Feldenkrais Method® of somatic education is a powerful and revolutionary approach to improving your life that uses gentle, mindful movement to bring new awareness and possibility into every aspect of your life. Developed by Dr. Moshe Feldenkrais, the Feldenkrais Method® has helped millions of people worldwide.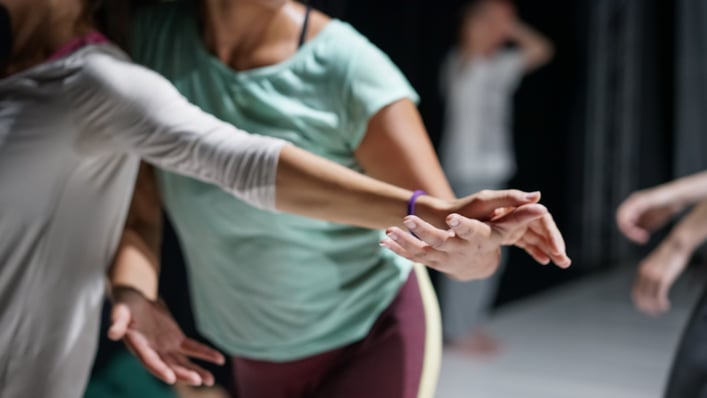 Photo via Shutterstock
What it is.

The Feldenkrais Method
®
of somatic education uses gentle movement and directed attention to help people learn new and more effective ways of living the life they want. You can increase your ease and range of motion, improve your flexibility and coordination, and rediscover your innate capacity for graceful, efficient movement. Since how you move is how you move through life, these improvements will often enhance your thinking, emotional regulation, and problem-solving capabilities.

The Feldenkrais Method® is not a treatment, adjustment, or exercise program. Instead, it is based on principles of physics, biomechanics, and an empirical understanding of learning and human development. Moshe Feldenkrais stated, "We move according to our perceived self-image." By expanding your perception and increasing awareness, you will become more aware of your habits and tensions and develop new ways of moving. By increasing sensitivity, the Feldenkrais Method® assists you to live your life more fully, efficiently, and comfortably.
How does the Feldenkrais Method® differ from massage?
Massage involves soft tissue manipulation and massage therapists work with muscles and soft tissue. The Feldenkrais Method® is an approach that seeks to affect change by working with your nervous system. Your brain directs the nervous system and is in charge of your movement patterns, so if you want to change your movements you must literally change your mind. As new neural pathways are formed in your brain, you can safely regulate and coordinate your movements, organizing yourself for effective action in the world.
How does the Feldenkrais Method® differ from yoga?
Unlike yoga, the Feldenkrais Method® does not require you to be flexible, nor does it involve stretching or holding any positions. It also does not involve any practice to perfect positions. Instead of repeating and holding set poses as in yoga, in a Feldenkrais® class you explore gentle and innovative movements as you learn to become aware of habits that may be causing you movement difficulties, inefficiencies, or pain. Many yoga devotees explore the Feldenkrais Method® as a way to achieve postures that previously eluded them or that caused discomfort.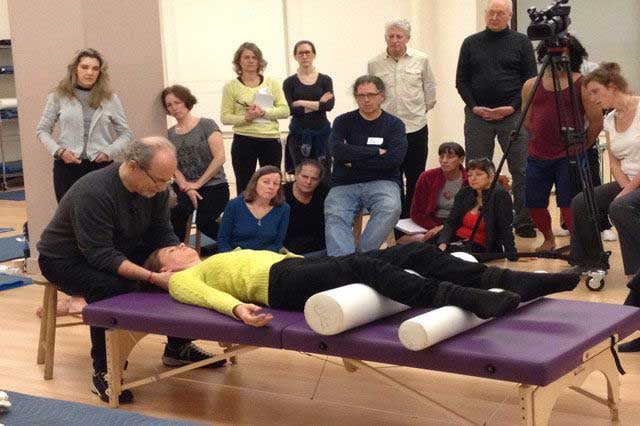 Instructor demonstrating the Feldenkrais Method®
Photo used by permission of feldenkrais.com
How does it work?
The Feldenkrais Method® is taught in group or individual sessions. Group classes are known as Awareness Through Movement® (ATM®) lessons and private, one-on-one sessions are known as Functional Integration® (FI®) lessons.
During Functional Integration®, the teacher guides an individual student in movement lessons using gentle, non-invasive touch as the primary means of communication. In a Functional Integration® lesson, the Feldenkrais® teacher's touch reflects to the student how he or she currently organizes their body and actions. The instructor suggests, through gentle touch and movement, expanded possibilities for new movement patterns which are more comfortable, efficient, and useful. Functional Integration® lessons are flexible in their approach, determined by the student's needs. The student may lie comfortably on a table designed specifically for the work, or do some of the lesson sitting or standing. As needed, the teacher may also use various props to support the student's comfort, to make certain movements easier, or to clarify a movement.
Feldenkrais® group classes are known as Awareness Through Movement® (ATM®) lessons. Similar to Tai Chi or gentle yoga, Awareness Through Movement® classes use slow, mindful movements to achieve powerful effects in terms of strength, flexibility, and holistic integration of body and mind. Unique to the Feldenkrais Method® of somatic education, these lessons tie directly into functional movements of daily life, such as walking efficiently, safely lifting objects, and improving one's posture in sitting or standing.

You can expect a class to last somewhere between 30 and 60 minutes. You might walk, stand, or sit in a chair, although usually, you will lie on the floor in a variety of comfortable positions: either on your back, front, or side. The teacher guides students through a sequence of movements, encouraging them to move with gentle attention within a comfortable range. You may become aware of unexpected and interesting connections within and between the movements. As you attend to the improving quality of movement, unnecessary muscular tensions throughout the body can reorganize and release. Students are often amazed at the quick and clear changes that occur through the neuromuscular re-patterning that happens in an Awareness Through Movement
®
lesson.
The Feldenkrais® Table by Custom Craftworks
The Feldenkrais Method® demands an ultra-strong and stable surface for practitioners, and the Feldenkrais® portable massage table delivers with an industry leading 800 lb. load capacity. Designed, tested and proven by leading Feldenkrais® trainers, its special features include a firm 1" foam, inverted truss with cable lock for tremendous lateral stability combined with snap-open ease of use, and standard low-height range (17 to 25 inches). Our exclusive design is one of the industry's best-selling specialty tables and easily withstands the rigors and movements unique to the Feldenkrais Method®.
Standard Features:
Load Capacity: 800 lbs.

Height range: 17-25"

Solid extra rigid birch frame with inverted truss

Cable lock system

Full length piano hinge

Vinyl coated aircraft cables

Dual knobs

Reiki end panels

9" on center dual-end accessory ports

1" Extra firm foam

"I have used Custom Craftwork tables in my Feldenkrais

®

Training programs since their Feldenkrais

®

tables were first introduced. Their tables are durable and aesthetically pleasing. The vinyl they use has proven to be extraordinarily resistant to damage. I still use the first table I bought in the late 1980's. Custom Craftwork's customer service has been great helping me and my students have the tables they need for their Feldenkrais

®

practices." - Dr. Jeff Haller, Founder of Inside Moves



Originally founded in 1986, Custom Craftworks supports the vital work of professional manual therapists and educators in the massage therapy and holistic health fields by designing, building and sourcing the best-quality massage tables, chairs, equipment and accessories available. In 2009, the company was acquired by Pivotal Health Solutions based in Watertown, South Dakota.