A touch above the rest
In the mid-1980s, custom cabinet and furniture maker Ron Tinsley received an unusual request from a friend, who happened to be a massage therapist: Could he help craft a better massage table, one that was strong and stable but also catered to the comfort of both therapists and clients?
It was a challenge the woodworker was glad to tackle. Tinsley looked at current models—typically heavy, cumbersome and unable to withstand the rigors often required during massage treatments. He re-engineered a new type of wood table—more solid, durable and comfortable than any others on the market.
Word spread, and what began as a side project became a full-time business. Custom Craftworks launched in 1986, carving out a niche for high-end, well-made, customized massage tables that meet the ergonomic needs of therapists and comfort requirements of clients.
Since then, Custom Craftworks has grown to become one of the largest manufacturers of massage tables, chairs, equipment and accessories in the United States. Acquired by Pivotal Health Solutions in 2009, Custom Craftworks continues to build thoughtfully constructed, long-lasting products for students, therapists, and educators in the massage, therapy, and holistic health fields.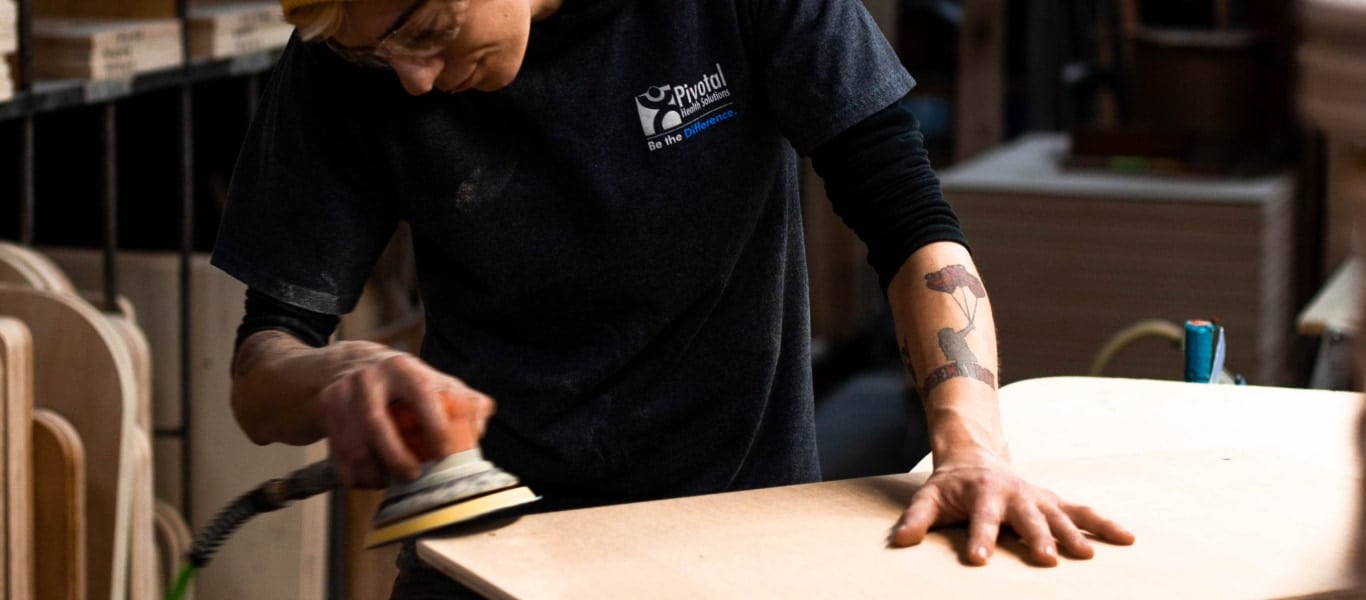 Innovation
Custom Craftworks is currently based out of Pivotal Health Solution's Springfield, OR location. Innovation continues to be the company's hallmark as Custom Craftworks was the first in the industry to design and build custom tables with breast recesses, as well as its one-of-a-kind prenatal tables. Very specific thought goes into every Custom Craftworks design, from the thickness of the wood to the choice of source materials that are both strong and flexible enough to accommodate all shapes and sizes. Adjustable table height, rounded corners, and portability meet therapists' ergonomic needs. Upholstery and foam padding are also carefully considered to ensure client comfort.

Eco-friendliness
Custom Craftworks has long held a commitment to environmental consciousness. Based in the mountains of Springfield, Oregon, the company recycles everything it can, from wood scraps to sawdust and foam pieces to office supplies. These materials—which the industry often tosses as waste—are transformed into useful products.
This commitment to the environment goes into its products as well. From select birch to fast-growing poplar, wood sources are harvested from sustainable-yield forests to minimize the environmental footprint. Custom Craftworks' earth-friendly CertiPUR-US® foams which are rigorously tested to strict standards for emissions, content, performance, and durability. We use water-based lacquers and finishes on our products to ensure fewer toxins come into contact with clients and the environment.

Quality Workmanship
Our tables have an excellent reputation for being among the highest quality tables in the industry. This ongoing commitment to quality and craftsmanship is reflected in every choice we make from material selection to execution of the final product.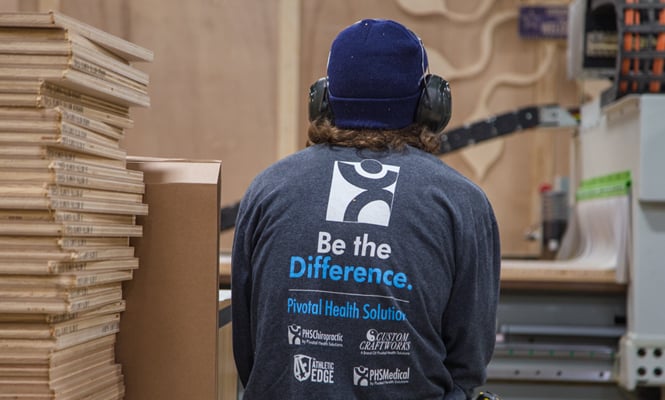 Be the Difference
As Custom Craftworks continues to grow and evolve, its philosophy and culture remain the same - to be the difference. Inside the facility's various areas, employees work on producing different aspects of its products. All are dedicated to the highest quality of workmanship, innovation, and longevity.