The field of sports massage therapy is a very popular specialization within our profession; however, massage therapists are often challenged when it comes to defining it. When a therapist advertises that she is a sports massage therapist, does she really understand what that means?
This article will cover some of the challenges and rewards of working as a sports massage therapist, and provide an overview of massage therapy applicable to sports massage therapy in the areas of event preparation, prevention and maintenance, injury treatment, and recovery.
Challenges in Sports Massage Therapy
We all want to look at the glamorous side of sports massage therapy and dream of standing on the sidelines, traveling around the globe, or sharing in the celebration of a world championship. While those things are great perks, there are plenty of times when the job is not all that fun. First of all, this work is tough. The necessary physicality of the work requires a massage therapist to be in good shape and conscious of working smarter to prevent injury. Another reality of sports massage is the hours can be quite long. Schedules can change at the last minute, which can be very frustrating—so you must be able to be flexible with your day.
The financial aspect can also be a challenge. There are many ways to structure compensation, but if you are going into sports massage to get rich and famous you might as well consider a different career path. With all these challenges, it may look like working in sports massage therapy holds more negative than positive possibilities—but that's not the case. I have worked in it at all levels of sport for more than 20 years and would not have chosen that path if it were not rewarding, both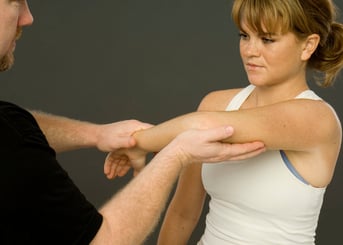 via Steve Jurch, ACT, LMT
professionally and financially. I have been fortunate enough to work with the Women's Tennis Association, treating the best tennis players in the world. Other doors that were opened through sports massage include working with U.S. Soccer, the NFL, the NBA, a professional dance company, collegiate athletics and a wide variety of other sports. In addition to helping athletes, my collaboration with sports medicine experts from around the world provided learning experiences that are not available in any classroom. However, it is important to portray this specialization in the most realistic way possible so that therapists do not go into it with rose-colored glasses.
Defining Sports Massage Therapy
When we start to define sports massage therapy, we see that it is targeted to support fitness, help reduce the demands of sport, increase performance and shorten recovery time. In many cases, specializations are defined by the techniques that are utilized, but when we dive a bit deeper and look at the techniques used in sports massage, we find there are no magic bullets. The same techniques utilized in other types of massage are used in sports massage, but are applied to a specific population. The real challenge is applying our critical thinking skills to use those techniques to achieve the best results. The ultimate goal of sports massage therapy is to contribute to the health and well-being of the athlete; therefore, considerations such as timing, setting, common stress areas, training schedule and other therapies the athlete is receiving are factored into treatment decisions.
Sports Massage Therapy is for Everyone
It is a common misconception that sports massage is only for elite athletes. This is certainly not true. While this type of treatment can improve the performance of an athlete and help keep him in his sport, it is beneficial to anyone who suffers from chronic pain or has an injury, whether from running a marathon, playing tennis on the weekend, or working in the garden. When it comes to the musculoskeletal system, we all have the same anatomy. A sore muscle is a sore muscle regardless of what caused it. When treating athletes, a common wisdom exists that certain techniques should not be applied and that pressure and pace should be adjusted depending on what training phase the athlete is in. Broadly, these principles make sense; however, some of these principles should be adjusted depending on the setting. This is why it is so important to understand the population you are dealing with.
Sports Massage Therapy Benefits
A better tactic is to apply a critical-reasoning approach to the four main areas of training and timing that the sports massage therapist will work in
1. Event preparation. This is when the athlete is in competition and is more of the traditional pre-event massage. This type of massage is utilized as part of the overall warm-up and is ideally performed within 90 minutes of play. It is quicker, lighter, and more general and should not last more than 10 to 15 minutes. Some benefits of event-preparation massage are that it: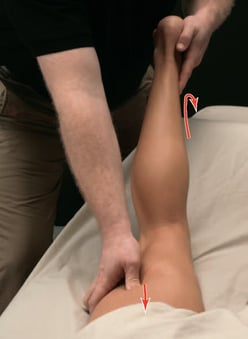 via Steve Jurch LMT, ACT
Warms the muscles
Excites the nervous system
Increases blood flow
Helps delay the feeling of exertion
Can help reduce injury
2. Prevention and maintenance. This type of massage is best done when the athlete can recover from any soreness. This is the time to work a bit deeper to remove any restrictions in the tissues and make corrections to the body without disrupting the training cycle. Some benefits of prevention-and-maintenance massage are that it:
Normalizes tissue
Improves tissue healing
Improves range of motion
Reduces muscle stiffness
Improves scar mobility
3. Injury treatment. This phase of sports massage therapy can occur while the athlete is still in competition; or, if the injury is bad enough, she will be out of training and competition. Techniques can range from lymphatic drainage to scar massage. Depending on the situation, the athlete may be in rehabilitation, so it is important to communicate with the other members of the health care team. Some of the benefits of injury-treatment massage are that it:
Prepares tissue to enhance treatments
Improves tissue healing
Normalizes tissue
Improves scar mobility
4. Recovery. This is an extremely important time for the athlete to receive sports massage therapy. This phase can include the traditional post-event massage and the more thorough recovery massage. This type of massage is ideally done one to three hours after competition. The benefits of recovery massage are that it:
Reduces delayed-onset muscle soreness (DOMS)
Improves the feeling of recovery
Can help with muscle endurance and power output
Can reduce muscle fatigue for repeated bouts
Increases neutrophil count
Decreases pain-causing substances in the muscles
Increases the pain threshold after exercise
Improves blood flow
Calms the nervous system and helps effect relaxation
Add Sports Massage Therapy to Your Practice
Utilizing sports massage therapy begins by creating a solid foundation on which to build. One of the quickest ways to start is to review what you already know.
Go back and become an expert in bony anatomy, joint structures and characteristics, muscle anatomy and function, and surface anatomy. Understanding types of forces, types of contractions, properties of various tissues, what types of injuries athletes incur and how those injuries heal—are all important.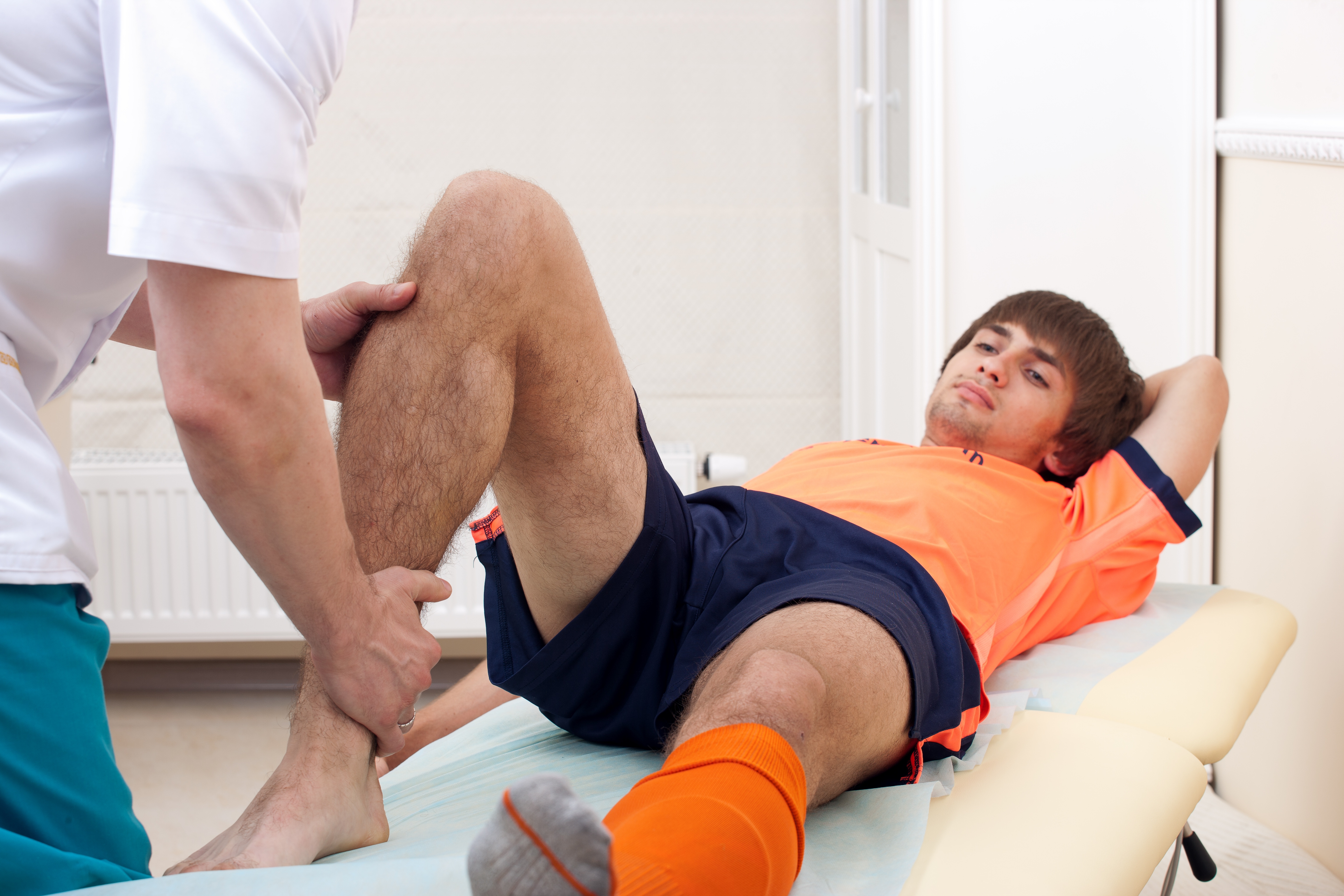 via shutterstock.com
Once the foundation is built, incorporating clinical reasoning is vital. The process of clinical reasoning always begins with gathering information.
This information will generally cause a wide range of impressions and interpretations, leading to the formulation of an initial general hypothesis. Despite having a general routine in place, therapists should view each athlete as unique; as a client whose symptoms require a tailored assessment.
No matter how many times a therapist has seen a particular condition or worked with athletes, for a treatment to work it must be specific. Formulating a treatment plan is an ongoing process for each athlete. It involves a constant sequence of assessing, treating, reassessing, and either continuing with the same treatments or trying something different. This requires therapists to continually use all of their resources to provide the most effective therapy possible.
One major advantage of having a systematic way to gather information is to determine whether massage therapy will truly benefit the athlete. This begins with knowing what not to treat.
As health care practitioners, massage therapists have a duty to provide proper care, even if that means referring athletes to other health care providers. We must be able to recognize situations that are outside our scope of practice; when to modify treatments; and when the use of modalities other than massage may be more beneficial.
Develop Your Sports Massage Therapy Skills
Because a lot of what we have discussed is not taught as part of our initial massage education, we must seek out continuing education to up-skill ourselves in various areas. With a plethora of courses to choose from, how do we know what to take?
The first bit of advice is to take courses from providers with relevant experience that gives them credibility in a particular modality. Experience with athletes is a hugely positive advantage when developing your skills. Most sports massage therapy experience comes from one-day events such as road races, triathlons and cycling races. While these are all good experiences, event massage is only a small part of what a sports massage therapist does.
Seek out a variety of settings and sports. Try to get long-term experience with teams throughout the season. Gain experience with injuries by shadowing or volunteering in a rehabilitation setting.
The American Massage Therapy Association (AMTA) and National Certification Board for Therapeutic Massage & Bodywork (NCBTMB) partnered to create the AMTA/NCBTMB Sports Massage Specialty Certificate Program.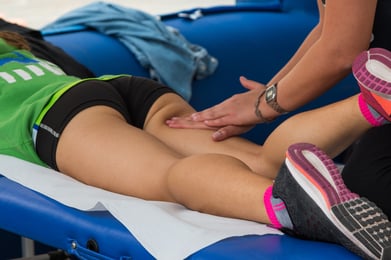 via shutterstock.com
The program was developed in partnership with some of the top sports massage educators, medical doctors and sports science experts in the U.S. and provides a solid foundational overview of the science of sports massage and settings for sports massage through online classes, enhanced by a workshop featuring techniques and applications.
Whether you earn the full sports massage certificate or take individual courses, the AMTA/NCBTMB Sports Massage Specialty Certificate Program can help you reach your career goals. Learn more and register at amtamassage.org/sports.
Opportunity for You
Sports massage is much more than working on runners at the end of a race; it is a powerful type of therapy that can benefit a wide variety of ailments and should be looked on as a primary method in treating musculoskeletal conditions. The skill sets that are developed through this specialization can create opportunities that might not occur with other types of trainings.
While the intent is to work with athletes, the in-depth understanding of how injuries occur, the structures that are involved, assessment techniques and critical thinking skills are tools that can be utilized in a variety of settings, allowing for tremendous versatility.
Want to learn more about sports massage therapy? Click below to download our infographic!

Steve Jurch, A.T.C., L.M.T
Steve Jurch, A.T.C., L.M.T., has over 20 years' experience as a massage therapist and athletic trainer. He serves as director of health and human services at Community College of Baltimore County, in Maryland. An NCBTMB-approved continuing education provider, he is the author of a clinical massage therapy textbook and is on the Editorial Review Operational Committee for the AMTA Journal.