After graduating from massage school in 2003, Brenda Blakesley, LMT experienced the massage therapy field in a wellness center and gym format. Soon after, the spa format became an opportunity. In Las Vegas, at Spa Bellagio, Brenda's true passion for Ashiatsu was born. Working ten-hour days and feeling every minute of it in her shoulders and arms, barefoot massage quickly became her go-to modality. According to Blakesley, "When the Bellagio in Las Vegas built their second tower in the early 2000's, Ashiatsu was added to the Spa Bellagio menu, and I immediately signed up for the training. Shortly before the building began, the movie "Charlie's Angels: Full Throttle" had come out and featured Lucy Lui performing Ashiatsu at the beginning of the movie. I knew I had to do it."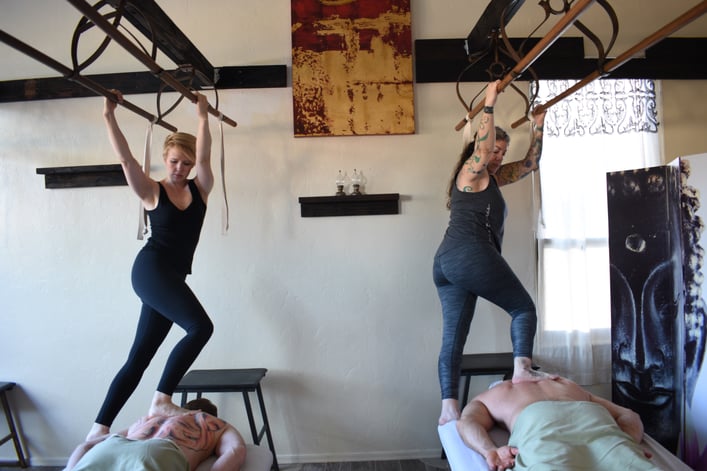 Photo courtesy of Southwest Ashiatsu Massage & Bodywork Academy
Since her early spa days, Blakesley has gained more experience working in additional formats including physical therapy and chiropractic offices, as well as yoga studios and salons. Within these varied formats, Brenda began developing more techniques and methods to prevent injury or burn out for any therapist wanting to provide barefoot massage. She has spent the past decade dedicated to resolving every and any reason a therapist has had to not provide Ashiatsu through the creation of Barefoot Massage Education at Southwest Ashiatsu Massage & Bodywork Academy.
Q & A with Brenda Blakesley, LMT
Southwest Ashiatsu Massage & Bodywork Academy
Q: Since Ashi means foot and atsu means pressure, does that mean that the Ashiatsu massage means the therapist is literally walking on my back?
A: There may be a step or two here and there, but "foot pressure" doesn't necessarily translate to walking, it translates to moving blood and lymph while palpating deeper layers of muscle tissue with "gliding compression." Very little walking, but a whole lot of gliding! Literally, the soles of the foot replace hands for this truly amazing work.
Q: How is an Ashiatsu deep tissue massage different than regular deep tissue massage?
A: The padding of the soles of the feet sinks deeper into tissue with much less resistance and discomfort than elbows, forearms, fists, or any of the sharper tools such as knuckles/fists, elbows, and forearms. Ashiatsu engages the parasympathetic nervous system due to the broad and softness of the tools being used. The assistance of gravity allows tissue to respond faster and better and does not take the client out of their deep relaxation.
Q: Can Ashiatsu massage deliver the same level of detail work as a regular deep tissue massage?

A: Absolutely! As previously mentioned, when therapists have the set-up (table, stool, bars) and body mechanics down, they are able to develop greater palpation and specific skills to translate our learned hand-modalities into their Ashiatsu practice. It can be very general in the beginning, but extremely pin-pointed and specific when well-practiced.
Q: Does Ashiatsu massage have to always be deep tissue massage?
A: No, it does not always have to be deep tissue or deep pressure. Skilled therapists will be able to utilize the softness of their soles and use the bars for balance to provide even lymphatic massage. Once discovered, the sole of the foot is the perfect fit for the human body for any modality!
Q: What types of Ashiatsu massage techniques does your academy incorporate?

A: Therapists who choose to sincerely practice Ashiatsu and develop more advanced skills will increase their ability to palpate over time, allowing all hand modalities to be melded in with it. In other words, when therapists use proper body mechanics and set ups, it becomes a modality that is able to offer trigger point (especially using the heel of the foot), myofascial release (using less oil, more angles and the ball of the foot), active release (with instruction, guidance of the client, and pin-stretch methods which apply to both hands and feet of the therapist), all more comfortably, efficiently, and effectively than traditional hand-modalities.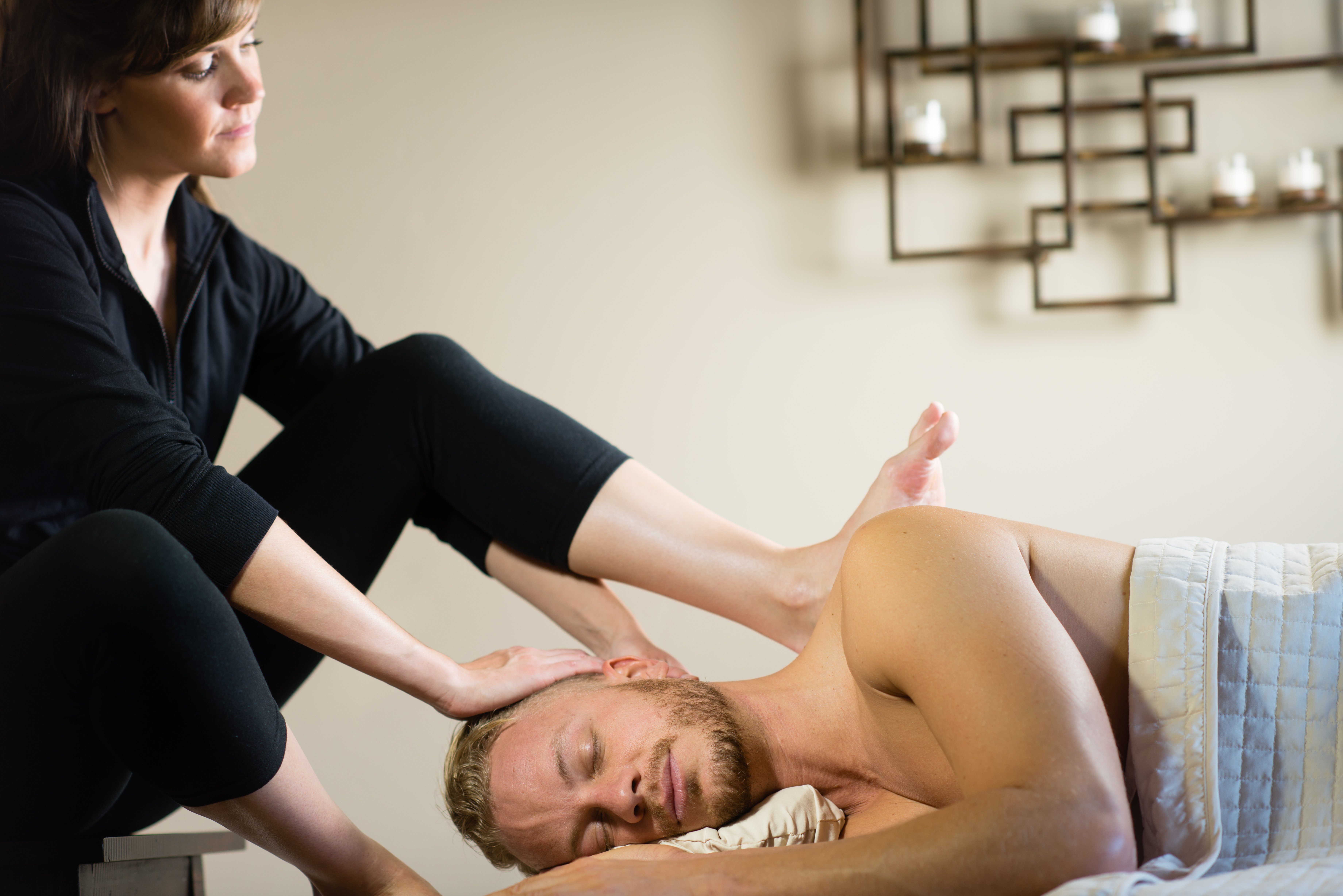 Photo courtesy of Southwest Ashiatsu Massage & Bodywork Academy
Q: What can a new client expect during an Ashiatsu session?
A: The main differences to hand-modalities of Ashiatsu are the draping and combating the thought "how in the world is he/she doing that?" from coming up the whole time. The soles feel like a soft, padded, giant hand—very similar to hands, but astoundingly better. The drapes, draping, equipment, and methods our school promotes, provide so much comfort to the differences in Ashiatsu draping, it's barely noticeable that the client is in a half-drape (one side fully open) for a good portion of receiving time.
Q: How do you prepare your feet for an Ashiatsu session?
A: Washing feet exactly the same way we wash our hands is mandatory in our academy! One should never use wipes or sanitizer and expect to move onto the next client with any modality that uses oils, lotions, creams, or gels, or any touch therapy for that matter. Our foot preparation makes clients guess whether it's hands or feet due to the softness and warmth of that first touch.
Q: Should Ashiatsu massage ever be avoided due to health issues?
A: There are lists of contraindications which include variances for phases, healing time, etc., however they are the same as traditional deep tissue contraindications. In our classes, we delve into detail about specific contraindications for Ashiatsu more than this, but as a whole, Ashiatsu is able to assist people living with and getting through many contraindications, the same way oncology massage has assisted many sufferers of cancer.
Q: What type of topical(s) do you use for Ashiatsu massage?
A: In class, we use an oil, however a therapist is free to bring their favorite cream, gel, or lotion to try. It's very individual, much like hand-modalities: different skin types absorb more or less of one than another, so experimenting is highly recommended. Most come back to using the one they tried in class, which is the Signature Blend, by Amrit (Red Cherry Group).
Q: Why is providing massage with your feet useful and efficient?

A: Without having to use small, more fragile joints such as wrists, elbows, and shoulders, therapists entire body weight is adjusted by balance with bars on the side of a client. This enables pressure and depth to be delivered to the client in a controlled, consistent, precise manner, which is easily adjustable by transferring weight and angles from the stationary leg to the working leg.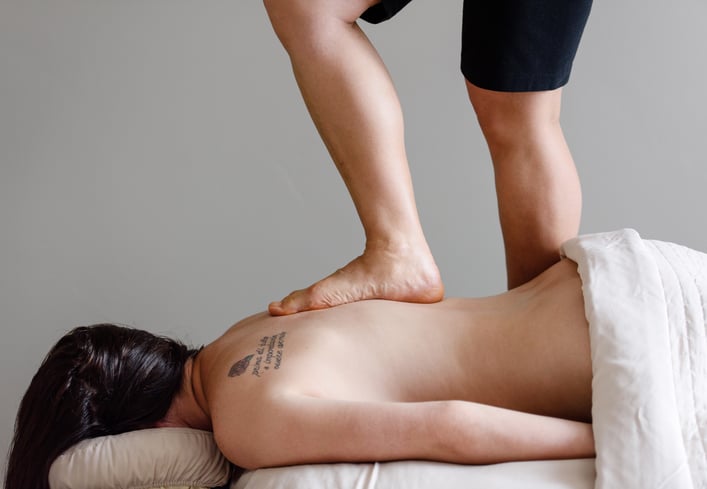 Photo courtesy of Southwest Ashiatsu Massage & Bodywork Academy
Q: What type of equipment or table is needed to perform Ashiatsu?
A: Ashiatsu requires the utmost detail to a therapist's height and weight. Each set-up is as individual as a driver's seat of their car, however there is a formula to follow for every single one to get it right! The table needs to be on the lower and wider side (as low as 16" and as wide as 33" is best for all clients and LMTs), a wide, deep, and sturdy bar stool is needed for seated techniques, and a set of bars over the table with a pair of yoga straps attached to the head-end of the table are all required to provide our method of Ashiatsu.
Q: How do you incorporate the parallel bars on the ceiling?
A: Ashiatsu Bars may be attached to the ceiling or from wall-to-wall with a beam in the exact way a heavier picture is placed on a wall: proper use of studs and rafters, along with the right size bolts, is all it really takes.
Q: How can a therapist obtain training/certification for Ashiatsu?
A: Most LMTs search online to find classes, and this is how most find us. Like any NCBTMB provider, we offer certificates of completion for those who participate in the required hours to obtain one. We offer advanced courses as well as one-on-one learning to provide more material for individuals to achieve specific goals and these hours may also count toward a completion certificate.
Q: Do you have any prerequisite training required before entering your academy?
A: Our academy will allow participation for a therapist-in-training, as long as they have completed a minimum of six weeks in a massage therapy program that included anatomy, draping, and ethics hours. To take advanced trainings, we require therapists to be providing a minimum of three, ninety-minute Ashiatsu sessions each week.

Originally founded in 1986, Custom Craftworks supports the vital work of professional manual therapists and educators in the massage therapy and holistic health fields by designing, building and sourcing the best-quality massage tables, chairs, equipment and accessories available. In 2009, the company was acquired by Pivotal Health Solutions based in Watertown, South Dakota.