Massage therapy is a physically demanding profession, and each therapist strives to provide the very best service for his or her client. Choosing the correct massage table is a critical component to ensure a therapist's best work and to help avoid injury.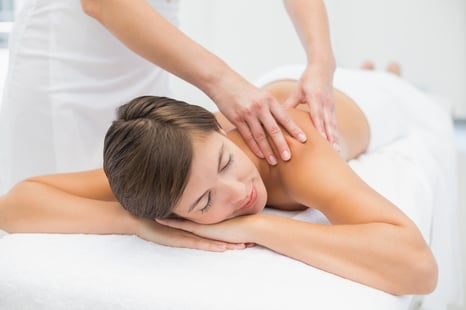 Image via Shutterstock
How Do I Choose the Correct Table Height?
Choosing the appropriate massage table is one of the most important decision a therapist can make. The correct table affords the therapist an opportunity to offer his or her best work for the client, and in turn creates a long lasting and profitable relationship for both the client and therapist.
According to Edward Mohr, when preparing for a massage therapy session, make sure to select a table at the proper height. Tables at a higher height equate to reduced low-back bending and a more normal wrist angle. Conversely, lower massage table heights cause the massage therapist to bend over more, transferring their center of gravity forward and increasing the stress on their low back. Additionally, wrist angle while extended becomes greater and increases stress, ultimately reducing grip strength.¹
A good rule of thumb is to choose a massage table where the top of the table reaches just below the therapist's wrist. Or, simply start with the table at half of the therapist's overall height. Adjust slightly up for longer leg length and slightly down to accommodate a longer torso. Don't select a table that is too wide to prevent excessive reaching.
One Size Does Not Fit All
In addition to choosing the proper height for your massage table, it is also important to consider the overall size including table width and length. The Classic Series Athena portable massage table by Custom Craftworks offers a myriad of functional and stylish options and upgrades to make the table uniquely yours including a low-height option of 18" - 26" for the therapist who is smaller in stature.
You can create a custom experience for your clients by adding extra inches to your table's width by selecting an extra wide option at 33" or 36," and add extra long length to 78" to accommodate any size, body type or technique. Professional athletes and clients who utilize sports massage and deep tissue massage appreciate the extra table width and length for comfort and safety.
Luxurious Comfort
Client comfort should be a top priority when selecting your table and added features can make a big difference. Upgrade your table with rounded corners, luxurious Natural Touch upholstery, and Touch Response Memory Foam for over three inches of extra-soft comfort. More foam within the table will give it much softer feel, but consider the type of foam as well as the thickness for long-term durability. Stiff, thin, or lower-grade foam could result in reduced comfort for your clients, and remember that there is a difference between portable massage tables that are constructed with quality foam and those that are simply built with an excessive amount.
In addition to foam, vinyl is another important factor to weigh when customizing your table. Cheaper vinyl material will have a rough, leathery feel to it rather than the soft, plush feeling of high-end vinyl. Custom Craftworks offers a variety of trendy colors with our standard upholstery that are vibrant, durable, and easily cleaned, but for added smoothness with a rich and luxurious feel, one may select our extra-soft Natural Touch upholstery in several more color variations.
Innovative Prenatal Options
Massage for expectant mothers can be a great way to expand your services with the correct training, certifications, and equipment. At Custom Craftworks, we understand the importance of client safety and comfort and as a result, we created a reliable and supportive solution. After extensive research and development consulting nurse-midwives, massage therapists, and engineers, we developed innovative prenatal and breast recess/scapula recess upgrades to enhance the client experience.
The Breast Recess (BR) option or Breast/Scapula Recess option includes dual cutouts with central sternum/spine support. Custom plugs are included. The Prenatal (PG) Option includes breast recesses and a belly cutout with an adjustable sling to provide comfort and support to expectant mothers. Custom plugs are included. To learn which Custom Craftworks tables offer prenatal upgrades, download our helpful table chart to help you compare.
For a truly unique massage experience, more therapists choose the Athena portable massage table than any other and have over the past two decades due to its fully customizable and professional design. Details matter--just ask your clients.


References:
1. Mohr, Edward, 2013 AMTA presentation, "Reducing Injury and Increasing Output With Proper Body Mechanics."

Originally founded in 1986, Custom Craftworks supports the vital work of professional manual therapists and educators in the massage therapy and holistic health fields by designing, building and sourcing the best-quality massage tables, chairs, equipment and accessories available. In 2009, the company was acquired by Pivotal Health Solutions based in Watertown, South Dakota.