Anti-fatigue floor mats promote employee wellness and workplace safety by proficiently reducing stress, strain and improving circulation, all while minimizing joint, limb and muscle aches. The use of high quality, ergonomically sound anti-fatigue mats is a crucial link in reducing pain related to standing long hours at work.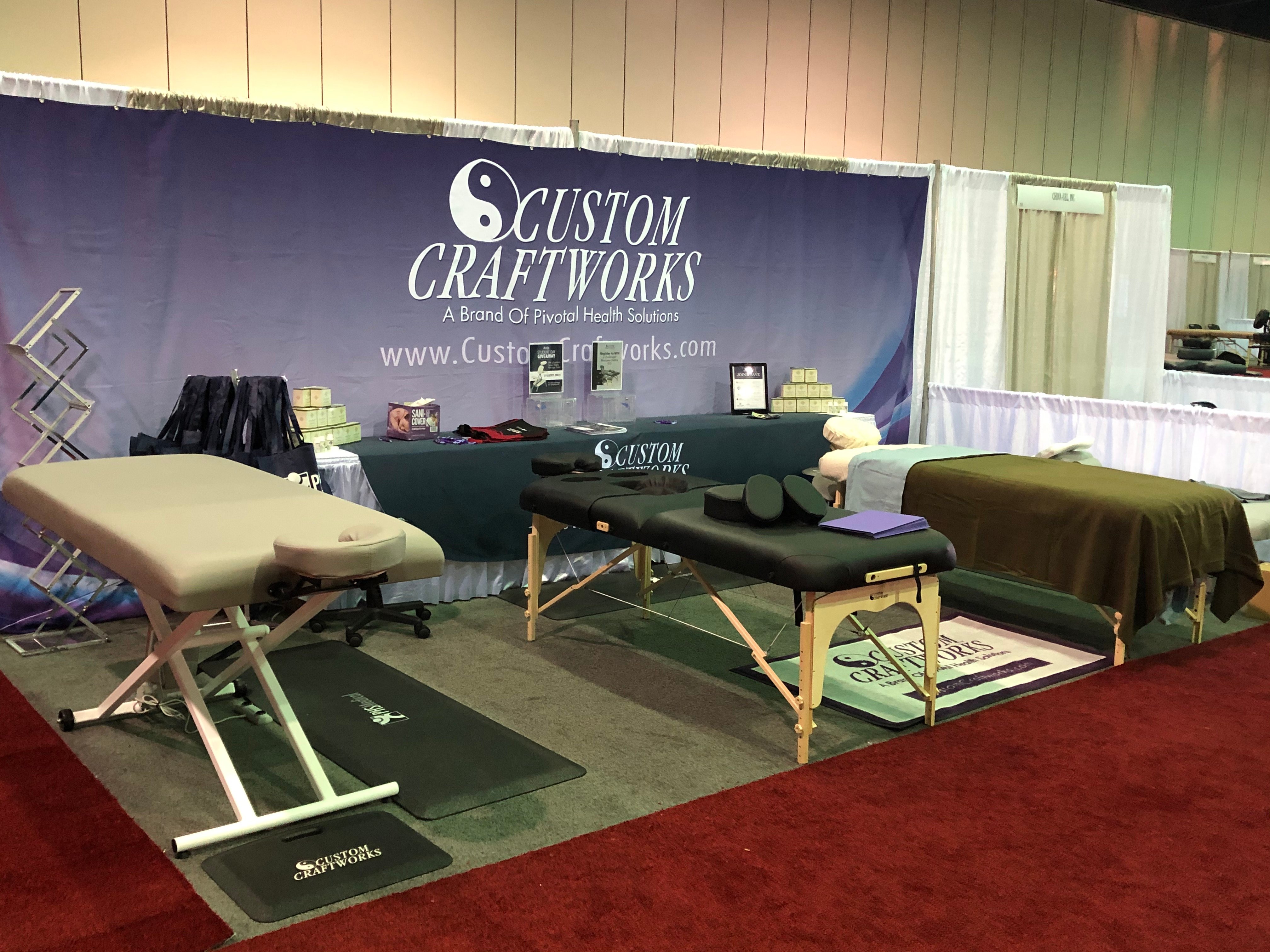 Image by Custom Craftworks
Pivotal Health Solutions offers a premium standing solution in Smart Step Wellness Mats. Anti-fatigue mats help to increase workplace comfort by reducing spinal compression, increasing circulation, and minimizes leg, foot, and ankle fatigue, along with back fatigue. We feature personalized anti-fatigue mats at all trade shows and educational events we attend. Visit our booth at the next stop to sample one.
Anti-fatigue mats can be found at a variety of price points, but purchasing a high quality mat such as the Smart Step Wellness Mat can give you peace of mind that your investment will provide long lasting performance. The Smart Step mats offered by Pivotal Health Solutions are environmentally safe, non-toxic, latex free, and eco-friendly. Effectively combining comfort, style, and performance and ensuring the longevity you desire is what sets Smart Step apart.
Why Smart Step Wellness Mats?
Comfort By Design
All Smart Step mats are distinctively made with proprietary SmartTech Polyurethane™ (STP) and are manufactured in the USA. We provide unmatched comfort by design as our polyurethane composite effectively suspends body weight, reduces impact on the back, legs and feet while encouraging proprioception (redistribution of body weight). The result is consistent comfort, better circulation, and less body fatigue.
The Smart Step Guarantee
SmartTech Polyurethane Technology (STP) and revolutionary designs guarantee:
Permanent shock absorption and recovery (consistent 'bounce-back' every time)
Abrasion, slip and wear resistance (mat travel is reduced and will not show wear and tear)
Stain, chemical, puncture and tear resistance
Contain no plasticizes, and will not leach over time (no noxious smells or bad chemicals)
Flame resistant up to 400°F

Smart Step Wellness Mats FAQ's
Q: Are Smart Step mats environmentally friendly?
A: Yes. Smart Step mats have a greater life expectancy keeping them out of the landfills and thus contributing to a greener environment. After their minimum 20-year life expectancy, Smart Step Mats can be recycled.
Q: Are the mats safe and non-toxic?
A: Yes. Smart Step's 100% polyurethane does not contain PVCs or BPAs and have been rigorously tested and proven to be safe. Smart Step Mats are also latex and odor free.
Q: Are Smart Step mats safe for radiant floors?
A: Yes. Smart Steps mats are flame resistant, will never ignite, and have a melting point of 400˚(F) making them safe for radiant flooring systems. We have passed the CFR 1630/1631 Standard for the Surface Flammability of Carpets and Rugs.
Q: Do Smart Steps mats have an odor?
A: The polyurethane construction of Smart Step mats will not produce "off-gassing," unlike rubber, vinyl and/or biodegradable foam mats.
Q: How do I clean my Smart Step mat?
A: Smart Step mats require little to no special care. You can spot clean, sweep, stick vacuum (non-brush-rolled), or mop as needed. Most spills can be easily cleaned with a towel. For more difficult stains, clean with mild soap and water.
Q: How thick are Smart Step mats?
A: Most Smart Step Mats are 3/4" thick. That's 50% more thickness (mat = comfort) than many other premium mats on the market. Some Smart Step Mats are 5/8" thick.
Q: What are Smart Step mats made of?
A: All Smart Step Mats are made with proprietary SmartTech Polyurethane™(STP). The core of STP is polyurethane – a premium standard for anti-fatigue mats. It is more expensive than other commonly used materials, but offers the best support and comfort every time you stand on one providing exceptional value over time. This gives Smart Step mats an extended life-cycle, making them environmentally friendly.
Q: What does anti-microbial mean?
A: Anti-microbial is a term given to an object that is capable of destroying or inhibiting the growth of disease-causing microorganisms. Other mats use additive anti-microbial liquid bases to coat their mats. Coated type mats tend to wear off over time and could cause the growth of bacteria. Smart Step Mats are 99.99% anti-microbial by design. Since they are inherent in material formulation, no additives are necessary.
Q: Where can Smart Step mats be used?
A: Smart Step mats can be used anywhere in the home or workplace where standing occurs. They are perfect for use on assembly lines, in laboratories, at service counters and more commercial or workplace environments. Smart Step Mats are also commonly found in the kitchen, vanity, grilling & garage areas or fitness rooms.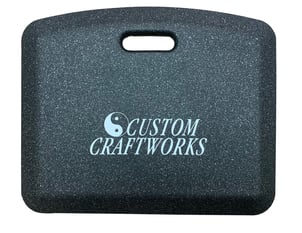 Photo by Custom Craftworks
Q: Will Smart Step mats stain my floor?
A: The bottom of Smart Step mats are free of paints and coatings that cause staining; our unique proprietary engineering allows the color pigment to be directly injected into the polyurethane. Company research has found some types of flooring, and Linoleum, in particular, may be made from raw, sometimes inexpensive materials including linseed oil. This type of flooring and floors sealed with a non-urethane based sealer may have a tendency to cause slight discoloring when covered. Although very rare, a few cases are known where linseed oil or the adhesives used to seal floors have an oxidation effect due to lack of UV light over time. This adverse effect could happen with any type of floor covering. If you have any concerns about the chance of any discoloration or material reaction, it is our recommendation that you contact your floor installer to learn more about your finish.
Q: What if I have a defective mat and need to make a warranty claim?
A: To speak with a customer service representative. Please call 800.743.7738. We will ask for pictures of the mat to address the manufacturing defect and then quickly return or replace the defective mat.
Q: Where are Smart Step mats made?
A: Smart Step mats are 100% Made in the USA at a manufacturing facility outside of St. Louis, Missouri and sold through Pivotal Health Solutions and each of our brands.
This information was curated from https://www.wellnessmats.com

Originally founded in 1986, Custom Craftworks supports the vital work of professional manual therapists and educators in the massage therapy and holistic health fields by designing, building and sourcing the best-quality massage tables, chairs, equipment and accessories available. In 2009, the company was acquired by Pivotal Health Solutions based in Watertown, South Dakota.