Showing your equipment some tender loving care will pay off in the long run because taking extra care ensures a long and productive service life. Since you have made an investment in purchasing a quality massage table, it is important to keep it clean and in good repair for many years of use, and satisfied customers.
So, how do you properly care for your tables?
After Each Client...
Clean your table with a mild cleaning solution.
• Using a solution of 10% mild household liquid dish soap and warm water applied with a soft, damp cloth work best. This ensures no overuse of chemicals and will keep upholstery colors vibrant.
• After cleaning with mild dish soap solution, rinse with clean water and thoroughly dry.
For Stickiness or Stains...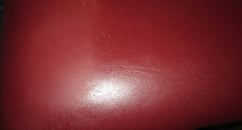 • Make a solution of Fantastik® and water OR Formula 409® and water [1:1 ratio]
• Use a water dampened cloth and rub and dab gently until stain lifts.
• Rinse with clean water and dampened cloth.
For Difficult Stains...
• Dampen a soft [white] cloth with a solution of household bleach and water [10% bleach: 90% water].
• Rub gently and rinse with a water-dampened cloth until bleach concentration is gone.
Try a Disinfecting Wipe
• An easy alternative to mixing solutions is the disinfectant wipe called Protex Ultra Disinfectant Wipes.
They are alcohol, bleach, and solvent-free
Many Pivotal Health customers use these wipes with satisfied results.
What NOT to Use
Do not use improper cleaning agents that crack, dry out and destroy your vinyl.

Using the wrong cleaning agents can result in a

VOIDED

warranty.
Do not use any cleaning agents that contain alcohol, harsh chemicals or abrasives.
When in doubt, give us a call!
For Linens
Custom Craftworks offers a variety of linens and accessories to create a comfy and cozy spa experience for your customers and keep your table protected. Made with 100% cotton, these high-quality flannel sheets are double brushed for extra softness and are easy to clean and care for in the case that stains occur from lotions, creams and other products.
Wash in cold water on the gentle cycle to avoid friction

Add one cup of white vinegar to the rinse cycle and DO NOT USE detergent

Adding vinegar will allow the fiber to expand creating softness and will preserve the long-lasting color

If using a front-loading washing machine, use the extra water setting

Tumble dry on warm or use medium heat on a gentle setting or remove from dryer while sheets are still slightly damp

DO NOT USE dryer sheets as they cause friction allowing the flannel to pill over time.
What If I Need Replacement Parts?
Even our quality-built tables need a replacement part or two once in a while. Over time, parts can be worn, lost or damaged, so it is good to know Custom Craftworks has options. Please contact our helpful customer service department with your questions or concerns.

Originally founded in 1986, Custom Craftworks supports the vital work of professional manual therapists and educators in the massage therapy and holistic health fields by designing, building and sourcing the best-quality massage tables, chairs, equipment and accessories available. In 2009, the company was acquired by Pivotal Health Solutions based in Watertown, South Dakota.