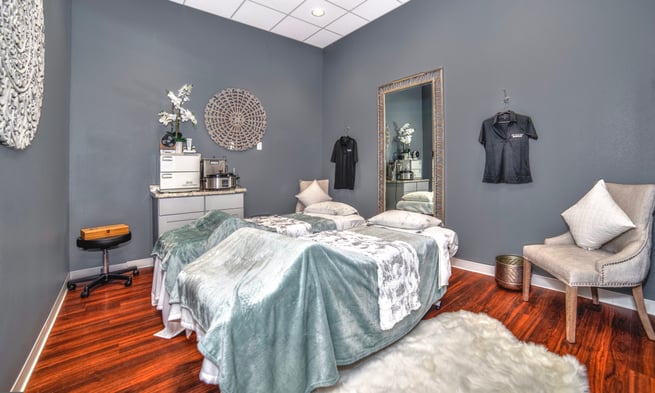 Cremé De La Cremé Massage room with two Custom Craftworks massage tables & accessories.
Innovation
We strive to stand out and foster innovative thinking to solve problems and push the creative barriers of product selection, performance and price. With advanced features like our whisper quiet electric lift system and hands-free elevating tables, our products benefit both the therapist and the client. By continually improving our product lines, we are creating more value for our customers and for ourselves.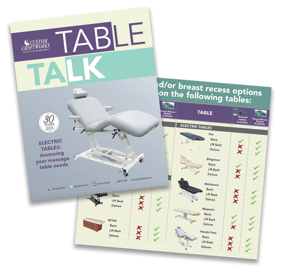 Education
We like to first educate our employees, vendors, dealers and customers on the benefits our products have to offer. The industry is always changing and we think it is important to keep everyone current with our latest developments. The more we know, the better we can operate and serve our customers.
Domination
We have a relentless desire to be the best. Custom Craftworks harvests an atmosphere that encourages growth to set us apart from our competitors and put us at the top. We aim at exceeding expectations and aren't satisfied until our customers, dealers, vendors and employees are satisfied.
Quality
A lot of thought is put into each and every one of our products. Our engineers design our products with input from industry experts and professionals so each product meets the ergonomic needs of therapists and comfort requirements of clients. Our skilled craftsmen and women build these products from materials that are meant to withstand the conditions that massage and treatment techniques require. Our products are continually being updated to adapt to new needs and better serve the massage community.
Integrity
We are proud of our hard work and stand behind it in an honest and respectable manner by being open and ethical from all angles. We strive to be thorough in the entire purchasing process. If there is ever an issue or misunderstanding, we will work together to go above and beyond to make sure it is resolved and taken care of.
What do our customers say?
The Custom Craftworks stamp can be seen all across the globe. Our commitment to quality, innovation, teamwork and success has brought us to where we are today and we're not stopping.

This video is made using InVideo.io
Click below to download the Pivotal Health Solutions Corporate Identity eBook:
---
You might also like:


Originally founded in 1986, Custom Craftworks supports the vital work of professional manual therapists and educators in the massage therapy and holistic health fields by designing, building and sourcing the best-quality massage tables, chairs, equipment and accessories available. In 2009, the company was acquired by Pivotal Health Solutions based in Watertown, South Dakota.