Webinar: Dynamic Self Care Concepts: Fascial Restrictions Can Affect Everyone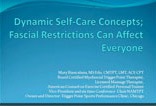 ​
Speaker: Mary Biancalana, MS, CMTPT, LMT
Mary Biancalana goes in depth to discuss fascial restrictions, protocols and self-care treatment tips. You will learn:
How to use self-applied compression, stretch or stretch/contract/hold/ further stretch, and range of movement techniques to reduce and eliminate myofascial dysfunction
How to recognize and eliminate muscular restriction and prevent future injury and pain states
How self-care techniques can be applied to aid in performance and reduce potential for injury / activation in the muscles
About Mary Biancalana:
Mary is co-author of the book, "Trigger Point Self-Help For Low Back Pain," March 2010, New Harbinger Publications.

Recognized as a national leader in the field of muscle pain, and dynamic function and training, Mary is the owner and director of therapy for Trigger Point Sports Performance in Chicago, Ill. She has treated and been endorsed by members of the Chicago Bears football team.
Mary is a highly sought after and engaging speaker for the health and fitness industry, as well as for the medical and massage therapy community. She travels across the country, teaching trigger point therapy protocols to licensed health care professionals, including licensed massage therapists, athletic trainers, physical therapists, occupational therapists, MDs, DCs, DOs, nurse practitioners and nurses.
Mary holds a bachelor's degree in Teaching Physical Education from DePaul University and a master's degree in Education from Northeastern Illiniois University. Mary is an American Counsel on Exercise (ACE) certified personal trainer, nationally board-certified myofascial trigger point therapist and licensed massage therapist. She is the vice president and conference chairperson for the National Association of Myofascial Trigger Point Therapists (NAMTPT).