Webinar: Part 1: Medical Massage for Lower Extremities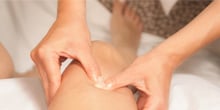 Speaker: Bryan Hawley, DC
Dr. Hawley is a nationally recognized author and speaker as well as online consultant. He is a certified NCBMT continuing education provider and has hosted several online continuing educational courses that encompass a medical viewpoint combined with a splash of humor for LMTs and Bodyworkers over the past several years.
* This webinar is not valid for CEU credit.

Here is what he will be covering:
• Basic Anatomy (boring stuff made FUN!!)
• Physiology and Biomechanics
• How a flat foot can throw everything out of balance (say what?)
• Client Assessment
• Clinical Protocols (what to do and how often should you do it!)
• When to refer and warning signs (Danger Will Robinson, Danger!)
• Covering when (4) 1/2 hour sessions are actually better than (2) 1 hour sessions and much much more!

Owner and director of the MAGNA Chiropractic clinics in southern Kentucky, Bryan currently oversees all disc decompression cases. He is also adjunct faculty at various universities, and his clinics are teaching facilities to select externs in physical education and chiropractic medicine. He also counsels clinical offices around the country on business management and difficult patient cases.