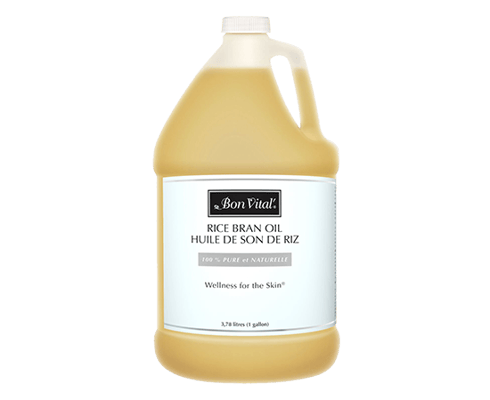 Bon Vital'
Rice Bran Oil
Starting at $

12
Inventory Status:
Out of Stock
Lead Time: 2 Weeks
*Shipping only available in US*
Provides Excellent Therapist Control
Known as nature's best-kept beauty secret, Rice Bran Oil has been used for centuries to keep skin soft and smooth. The professional quality Bon Vital' Oil is full of Vitamin E and other antioxidants that moisturize patients' skin during a number of massage modalities. The lightweight oil quickly absorbs into the skin while providing therapists with excellent grip and control with little glide.
Ideal for Various Massage Modalities
Rice Bran Oil is ideal for all types of massage modalities. It can be used to nourish and repair dry skin or help relieve stress during any full body massage, back massage, or neck massage. Bon Vital' Rice Bran Oil can also be combined with essential oils to create a soothing aromatherapy massage customized to the patient's preferences.
Pure Oil for Personal or Professional Use
The 100% pure Oryza Sativa (Rice) Bran Oil is paraben free, cruelty free, and gluten free. The bulk one-gallon bottle is ideal for the clinic. The eight-ounce bottle is pumpable for convenient use at home or for massage therapists on the go.
Contains 100% pure cold pressed Oryza Sativa (Rice) Bran Oil
Provides a better grip for less slipping and greater control
Full of Vitamin E and other antioxidants to moisturize the skin