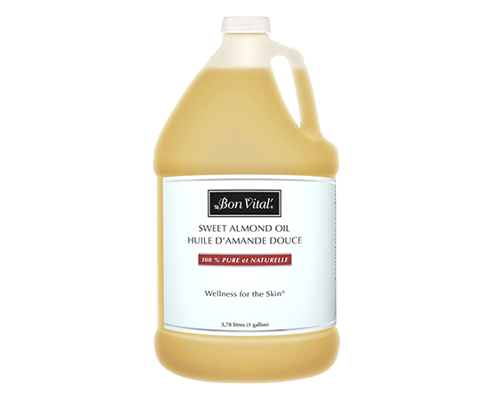 Bon Vital'
Sweet Almond Oil
Starting at $

87
Inventory Status:
Out of Stock
Lead Time: 2 Weeks
*Shipping only available in US*
Gentle for Various Modalities
Featuring a long shelf life, Bon Vital' Sweet Almond Oil is a midweight oil used for various modalities. It is ideal for uses that require longer-lasting strokes and easy absorption while still being gentle enough for infant massage and sensitive skin. This oil is used to soften and smooth the skin and pairs well with essential oils to customize the therapeutic benefits for patients.
100% Pure Cold Pressed Oil
Bon Vital' Sweet Almond Oil is cold compressed to ensure the highest amount of vitamins and minerals. It is made of the highest grade, 100 percent pure Prunus Amygdalus Dulcis (Sweet Almond) Oil. The gentle oil is available in one-gallon jugs for the entire clinic or an eight-ounce bottle for convenient patient use on the go.
Professional Quality Oil
Bon Vital' focuses on professional quality products for massage therapists and clinicians. Bon Vital' Sweet Almond Oil acts as an excellent moisturizer to help improve dry and chaffed skin and help prevent stretch marks and sun damage.
100% pure natural Sweet Almond Oil
Gentle enough on the skin for infant massage modalities
Offered in 8 oz pump or 1-gallon bottles for home or clinic use