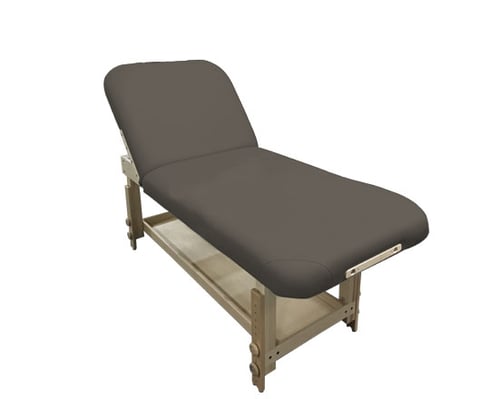 Classic Series
Taj Mahal Lift Back Stationary Table
Starting at $

1293
Inventory Status:
Product Customization Required
Lead Time: 8 Weeks
If you plan to purchase more than one table, please contact Custom Craftworks at 800-627-2387 to calculate the best shipping rates.
With the Taj Mahal Lift Back, you can comfortably accommodate clients in seated, supine, or prone positions. This Stationary Table features unsurpassed woodwork and craftsmanship. Crafted from solid maple, the Taj Mahal Lift Back Stationary Table comes standard with manually adjustable legs or fixed height legs and a sturdy hardwood frame. Upholstered with our 3" multi-layer foam cushion, the Taj Mahal Lift Back provides a beautiful and affordable treatment table for a broad range of customers.
*Accessories sold separately.
Standard Features:
Load Capacity: 800 lbs.
30"W x 73"L
Solid maple wood frame
H-Brace construction
Dual knobs
9" on center dual-end accessory ports
3" Multi-layer foam
Manual lift back cushion