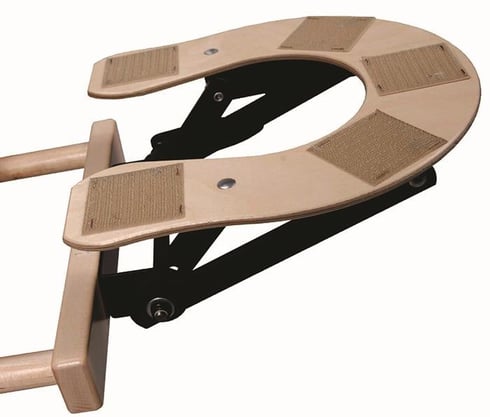 Write a Review
Wellness Works Massage & Healing Touch
Jeanne Thune on 3/23/22
"Love this company and their tables. My first Athena portable table is still going strong for 23 years. First time replacement on the deluxe face cradle and the service to replace was fast and fantastic!!!"
Classic Series
Deluxe Adjustable Face Rest
Starting at $

133
Inventory Status:
In Stock
Lead Time: 1 Week
Our popular American made face rest has been a favorite for over a decade and features a slightly wider range of motion than our standard Dual Action. A pair of 1.91 cm dowels insert into 9" on center outlet holes to attach face rest at either end of your Custom Craftworks table adding approximately 9" to the total length of your table. The face rest rises and pivots vertically up and down for optimal comfort and placement of client's head. Full range of adjustment is 4-6". Pillow attaches with hook and loop fastener strips on the face rest base.
This base only fits tables where face rest holes are 9" apart, including the Athena, Omni, Feldenkrais, Elegance, Pro, Majestic, McKenzie and Hands Free.
To ensure proper fit: At the head of your massage table, measure the distance from the center of the left face rest hole to the center of the right face rest hole. Please call us if you need additional assistance.
Standard Features:
Dimensions: 9.75"L x 9.25"W x 4.5"H
1 Year Limited Warranty