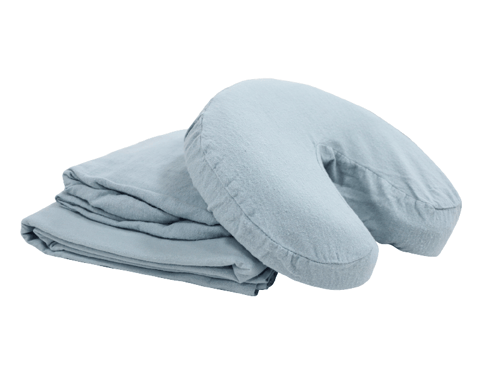 Write a Review
Mobile Massage Method
Michelle Marie on 3/23/22
"I love your tables! I just recently ordered the simplicity for out calls and it is perfect. I have dealt with Teri many times and she is amazing! Knows all the products very well and a great representative for Custom Craftworks! I love the flannel sheets also! Excited for whatever the gift may be!! Great job guys!"
This company's customer service is outstanding as well.
Tara Tyson on 3/23/22
"I recently purchased my second Custom Craftworks table and am equally impressed with the quality of the second as I was with my first. This company's customer service is outstanding as well. Prior to my order shipping, I was contacted to verify all details of my order, and after delivery, I was contacted again to ensure I was satisfied. Shipping was much quicker than what I was originally quoted, and I ended up receiving my full order in less than a week. Will definitely be back to add to my setup!"
Massage Therapist 22
Romana Ellenberger on 3/23/22
"I bought my table and first sheets 11 years ago. Been very happy with the flannel sheets and I can't find them anywhere else! ( I live in Switzerland) These sheets feel soft and give the client a secure and cozy massage experience."
Deluxe Double Brushed Cotton Flannel 3 Piece Sheet Set
Starting at $

26
Inventory Status:
In Stock
Lead Time: 1 Week
The Deluxe Double Brushed Cotton Flannel 3 Piece Sheet Set includes a flat sheet, fitted sheet, and face rest cover. Flannel massage sheets are lightweight and perfect for your table year round, providing a perfect balance between comfy and cozy. These high quality flannel sheets are double brushed for extra softness and made with 100% cotton, making it easier to remove stains from lotions, creams, and oils. Flannel sheets take the chill off and make it easier to provide a deep, relaxing experience for your clients.
Standard Features:
Flat Sheet: 61"W x 100"L
Fitted Sheet: 33"W x 73"L x 7"H
Face Rest Cover: fits all standard size face rest pillows
Set includes a flat sheet, fitted sheet and face rest cover
4.5 oz. flannel
100% cotton
Fitted sheet fits up to a 33"W x 73"L x 7"H massage table cushion
Washing Instructions:
Wash your sheets in cold water on the gentle cycle. Washing them on gentle is extremely important because this cycle uses less motion causing less friction. Add one cup of white vinegar to the rinse cycle (no detergent). Adding vinegar will allow the fiber to expand that makes them soft, which helps to preserve the color keeping them from fading and looking dingy over time.
*If using a front loading machine, use the extra water setting.
Tumble dry on warm or medium heat on a gentle setting or remove sheets from dryer when sheets are slightly damp. Don't use dryer sheets, as this can cause undue friction that causes the flannel to pill over time.