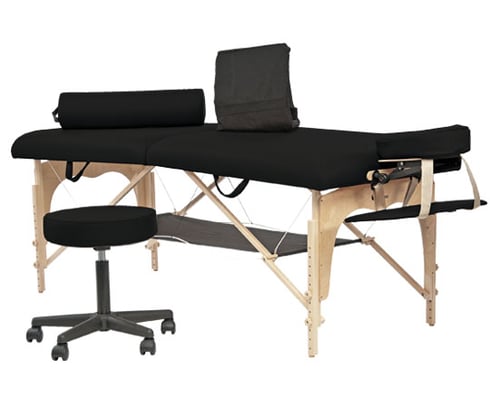 Classic Series
Athena Professional Package
Starting at $

1030
Inventory Status:
Product Customization Required
Lead Time: 5 Weeks
If you plan to purchase more than one table package, please contact Custom Craftworks at 800-627-2387 to calculate the best shipping rates.
In our Athena Professional Package, we offer our most popular portable table with extras that help improve both therapist effectiveness and the client experience. Along with the Athena table, we include the dual-action face rest with pillow, Classic Series arm rest shelf, 6" x 27" round bolster, rolling stool, under table shelf carry case.
Package Includes:
Classic Series Athena Table
Dual action face rest with pillow
Classic Series arm rest shelf
Round bolster (6" x 27")
Rolling stool
Under table shelf (Not available on 36"W table)
Carry case
Standard Features:
Load Capacity: 650 lbs.
Table weight: 31 lbs. for 28" x 73" / 34 lbs. for 30" x 73"
Width: 28" or 30", Length: 73"
Height range: 25-35"
Shiatsu release cables
Full-length piano hinge
Reiki end panels
9" on center dual-end accessory ports
Vinyl-Coated aircraft cables
3" Multi-layer foam