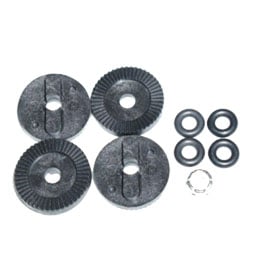 Repair Kit 2009 or newer Deluxe Adjustable (DPOS) & Pivot Posi-Tilt (PPOS)
Starting at $

17
Inventory Status:
In Stock
Lead Time: 1 Week
Don't buy a new headrest or put it in a landfill when you can do a simple repair!
This convenient Face Rest Repair Kit repairs ONLY the following Custom Craftworks Face Rests:
ALL Deluxe Adjustable, Posi-Tilt and Pivot Posi-Tilt Face Rests Purchased after January 1, 2010.
SOME Deluxe Adjustable, Posi-Tilt and Pivot Posi-Tilt Face Rests Purchased between January 2008 and December 2009. Please call us so that we may verify if this kit will work for you!
This will not repair any other brand of face rest or any other styles of our face rests including but not limited to: Dual Action, Classic Adjustable, or the discontinued Tilt and Versa-Tilt.
How to Diagnose: When your face rest stops holding elevation, this is often due to too much weight on the face rest. Usually, a client has leaned on it when you are out of the room (using as a balance while dressing or leaning into it) or have pushed full upper body weight into it while turning over. With the use of armrest shelves, or when multiple therapists are working on the table, this can happen more frequently. The little black disc teeth "strip" and lose traction when too much weight is applied (over 50 lbs.,) and will need to be replaced. Call us and we will gladly diagnose your issue if you are not sure.
Face Rest Disc Repair Kit Includes: 2-.066 Bar Discs, 2-.180 Bar Discs, 4-O-rings, 1-1/4-20 Nylon Thin Pattern, Zinc Plated and Easy to follow instructions. Requires use of a gel type superglue (not included), and needs 24 hours to dry.
We know that your table is important to you and it needs to get up and running as soon as possible. We ship regular UPS ground. If you require overnight, two day or three day delivery, contact us and we will gladly provide a custom ship quote.