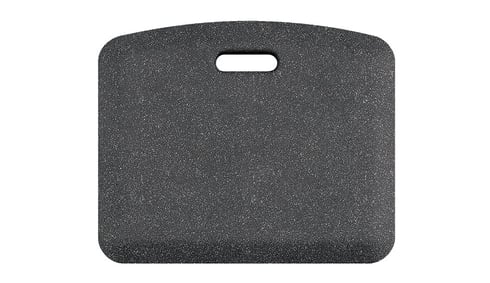 Smart Step MobilePro Mat
Starting at $

103
Inventory Status:
Product Customization Required
Lead Time: 8 Weeks
Small enough to transport, but large enough to do the job, the MobilePro anti-fatigue mat is equal parts comfort, convenience and benefit to the user. Stand, sit, or kneel in comfort. If you are looking for performance and relief on the job, it's nice to have a helpful companion. A carrying handle for portability is included.
Standard Features:
Unmatched Comfort and Support
Gradual Edges Will Never Curl
99.99% Anti-Microbial
Non-Slip Top and Bottom Surfaces
Will Not Separate, Bubble, or Delaminate
¾" SmartTech™ Polyurethane Technology
Perfected and Tested for Over 10 Years
10-Year Manufacturer's Warranty
Proudly Made in the USA
MobilePro Collection:
2218SSM - MobilePro 22" x 18" (22"L x 18"W x .75"H)
MobilePro Mosaic Collection:
2218SSMP - MobilePro Mosaic 22" x 18" (22"L x 18"W x .75"H)
Logo Options:
MAT-LOGO-55 - Full Color Logo 5" x 5" in Upper Left Corner
MAT-LOGO-1010 - Full Color Logo 10" x 10" in Center of Mat
*If ordering a logo, please contact Customer Service to complete your order. Vector file required. Common types of vector graphics include Adobe Illustrator, PDF, and EPS files.