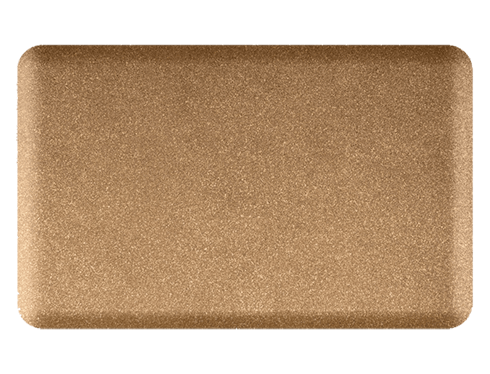 Smart Step Mosaic Mat
Starting at $

147
Inventory Status:
Product Customization Required
Lead Time: 8 Weeks
This workplace essential is a premium anti-fatigue solution designed to displace your weight, promoting better productivity throughout the workday. Engineered to improve blood circulation, relieve fatigue, and reduce aches and pains associated with prolonged standing, Mosaic Mats bring subtle texture and color to the overall collection. Available in Copper, Steel, Gold, and Onyx finishes, our mat is transformed with flecks of color and metallic highlights.
Standard Features:
Sized perfectly for most standing desks or sit-stand workspaces
Unmatched Comfort and Support
Beveled Edges Will Never Curl
Will Not Separate, Bubble, or Delaminate
99.99% Anti-Microbial
Non-Slip Top and Bottom Surfaces
¾" SmartTech™ Polyurethane Technology
10-Year Manufacturer's Warranty
Proudly Made in the USA
Mosaic Collection:
ES3220 - Mosaic 32" x 20" (32"L x 20"W x .75"H)
MO32 - Mosaic 3' x 2' (36"L x 24"W x .75"H)
MO62 - Mosaic 6' x 2' (72"L x 24"W x .75"H)
Logo Options:
MAT-LOGO-1010 - Full Color Logo 10" x 10" in Upper Left Corner
MAT-LOGO-1414 - Full Color Logo 14" x 14" in Center of Mat (Only Available on 24"W Mats)
*If ordering a logo, please contact Customer Service to complete your order. Vector file required. Common types of vector graphics include Adobe Illustrator, PDF, and EPS files.