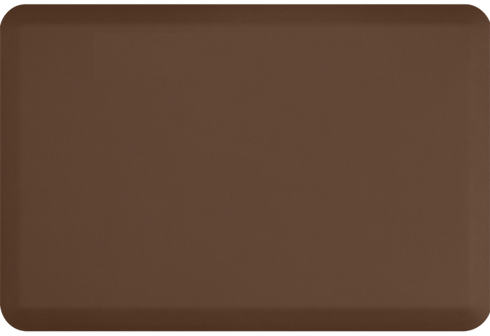 Smart Step Supreme Mat
Starting at $

147
Inventory Status:
Product Customization Required
Lead Time: 8 Weeks
The Supreme Anti-Fatigue Mat makes standing more comfortable by reducing back, neck, leg and foot fatigue associated with long-term standing. Made from 100% polyurethane, this mat provides comfortable, consistent support without compromising durability. It features a contoured design with 20° ADA compliant beveled edges that prevent tripping and is guaranteed to remain flat (edges will never roll). With a slip-resistant top surface and a non-skid bottom, the Supreme mat is reliable and safe. The Supreme Dual Anti-Fatigue mat offers additional grip support for especially slippery floors in smaller areas.
Standard Features:
Unmatched Comfort and Support
Gradual Edges Will Never Curl
99.99% Anti-Microbial
Non-Slip Top and Bottom Surfaces
Will Not Separate, Bubble, or Delaminate
¾" SmartTech™ Polyurethane Technology
Perfected and Tested for Over 10 Years
10-Year Manufacturer's Warranty
Proudly Made in the USA
Supreme Collection:
ES3220 - Supreme 32" x 20" (32"L x 20"W x .75"H)
32SSF - Supreme 3' x 2' (36"L x 24"W x .75"H)
52SS - Supreme 5' x 2' (60"L x 24"W x .75"H)
53SS - Supreme 5' x 3' (60"L x 36"W x .75"H)
54SS - Supreme 5' x 4' (60"L x 48"W x .75"H)
62SS - Supreme 6' x 2' (72"L x 24"W x .75"H)
63SS - Supreme 6' x 3' (72"L x 36"W x .75"H)
Supreme Dual Collection:
32SS - Supreme Dual 3' x 2' (36"L x 24"W x .75"H)
Logo Options:
MAT-LOGO-1010 - Full Color Logo 10" x 10" in Upper Left Corner
MAT-LOGO-1414 - Full Color Logo 14" x 14" in Center of Mat (Only Available on 24"W Mats)
*If ordering a logo, please contact Customer Service to complete your order. Vector file required. Common types of vector graphics include Adobe Illustrator, PDF, and EPS files.