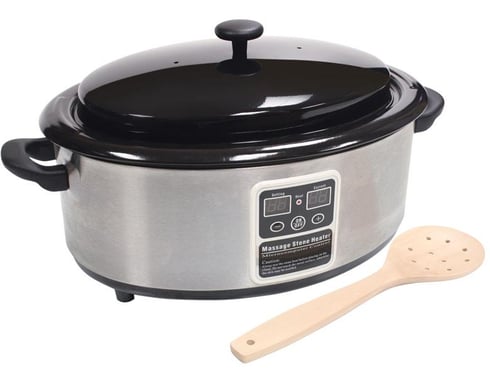 6 Quart Digital Stone Heater with Spoon
Starting at $

128
Inventory Status:
In Stock
Lead Time: 1 Week
Warm and maintain the heat of your hot stones with ease with the sleek Digital Stone Heater (6 Quart). Crafted of long-lasting, rust-free steel and aluminum, the fully digital heater warms stones up to 160 degrees and maintains them at a constant, even temperature throughout your therapy session. A slotted wooden spoon is included for easy transfer of the hot stones.
To use: Place a towel in the bottom of the water reservoir and lay stones on top of the towel. Cover stones with cold water (or to the max fill line). Preheat for about 20 to 30 minutes, then use the digital temperature control to maintain temperature.
Standard Features:
Dimensions: 14.5"L x 12"W x 10"H (inside dimensions: 12" x 8.5" x 4")
1 Year Limited Warranty
Weight: 7.6 lbs.