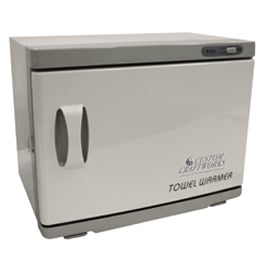 Single Door Towel Warmer
Starting at $

225
Inventory Status:
In Stock
Lead Time: 1 Week
Free Terry Cotton Face/Wash Towels 6pk with a purchase of a I9346 (Single Towel Warmer) while supplies last!!
The Single Door Towel Warmer has a rust-proof aluminum interior that maintains an internal temperature of 158-176° F. The warmer comes with 2 shelves and a condensation collector tray to remove excess moisture. The silicon door seal is ideal for heat retention and quiet operation.
Standard Features:
Outside: 18"W x 12"D x 14"H
Inside: 15"W x 8"D x 10"H
Single door warmer with silicon door seal and aluminum interior
23 liter / 6 gallon capacity
Maintains an internal temperature of 158-176° F
Two shelves and condensation collector tray
Light gray exterior color
Recommended heating time is 10 minutes
Towel warmer holds approximately 6 hand towels or 24 wash cloths (Custom Craftworks Terry Cotton Towels)
* The towel warmer should be used to heat towels only. Do not use warmer to heat massage stones.