When it comes to massage therapy, there's a growing awareness that one size doesn't fit all. Every client is unique, and their needs and comfort levels vary. However, one innovative feature in massage tables has been gaining traction for its ability to cater to a broad spectrum of people is breast recesses.
I have had a Comfort Craftworks Massage Table with breast recesses since they became available just over 20 years ago and people sure appreciate them.
Picture this: you're lying face down on a massage table, but the discomfort of having your breasts smashed detracts from the relaxation you need. Breast recesses come to the rescue, offering a significantly more comfortable session. While it's true that not all individuals with breasts face the same discomfort, these recesses provide an adaptable solution that benefits most.
Without breast recesses, some clients may experience increased pressure on their lower back, sometimes making it challenging to comfortably lie prone. However, with these recesses, clients feel less tension and more comfort. Expecting moms appreciate them a lot as they create more options for comfortable positioning during session.
But breast recesses aren't just about comfort; they also play a crucial role in catering to clients with specific medical needs. For those undergoing cancer treatment, these recesses can be a game-changer. Cancer patients often have a lot going on in their upper bodies, with ports for chemotherapy being a common addition. These ports are usually placed just above the breast area, making it easier to add a small extra pillow for comfort when using massage tables with breast recesses.
Post-surgery situations such as mastectomy, lumpectomy, implants or expanders also find breast recesses more comfortable. The flexibility they offer can enhance the overall massage experience and ensure that clients remain at ease throughout the session.
What's truly remarkable is that breast recesses are versatile. When clients turn over, therapists can continue to use them effectively to access the neck and upper shoulders more easily and safely.
October marks Breast Cancer Awareness Month, shedding light on the importance of early detection and support for those affected by breast cancer. While breast cancer receives significant attention, it's essential to remember that there are many different types of cancer. Also please be aware this month may not be a celebration for many people with breast cancer, especially those that are Stage 4.
When it comes to providing massage therapy to individuals in cancer treatment or those with medical complexities, intentionality is key. Massage therapists must undergo specialized training, at the very least, a 24-hour foundational course, from experienced educators who have clinical expertise. Ideally Educators & Foundational Trainings are approved by the National Certification Board for Therapeutic Massage and Bodywork & they are also Recognized Education Providers with the Society for Oncology Massage. This ensures therapists are equipped to begin navigating the unique challenges of working with people in cancer treatment as well as survivors.
The term "intentional" holds great significance in oncology massage because it underscores the necessity of deep knowledge. Massage Therapists that work with cancer patients and survivors seem to be lifelong learners and that is a good thing. There is so much more to learn beyond the foundational course. Therapists must be well-versed in various pathologies, symptoms, and a wide variety of patient situations. Contrary to conventional contraindications, where "no" means N O, as an absolute. In oncology massage, "know" KNOW is the operative word. Therapists need to know precisely what they are doing, why, where, what pressure and even how long the session is, ensuring their techniques are both safe and effective.
Working with cancer patients presents a range of challenges, from anxiety and stress to pain and swelling. Fortunately, nausea is less of a concern these days thanks to effective medications. However, therapists must be well-prepared to assist with neuropathy and address the unique needs of each person.
Radiation therapy introduces its own set of challenges. Patients often find themselves bending, twisting and holding still during radiation, which can take a toll on their bodies. While therapists avoid working on radiated areas, they focus on alleviating discomfort due to positioning, often in the lower back, shoulders, and arms, thus enhancing the patient's overall comfort during therapy. This can sometimes seem like a sports massage in that it is very area specific and doesn't take long, usually 10 – 15 minutes creates welcome relief. It is, however, much lighter and slower than what one would expect in any sports massage.
In summary, breast recesses in massage tables offer a multifaceted solution to enhance the comfort and therapeutic effectiveness of massages. They cater to the diverse needs of people, from those seeking relaxation to individuals facing complex medical conditions, including cancer treatment. When combined with the intentional approach of trained therapists, breast recesses contribute to a more comfortable and purposeful massage experience that can make a meaningful difference in the lives of those who need it most.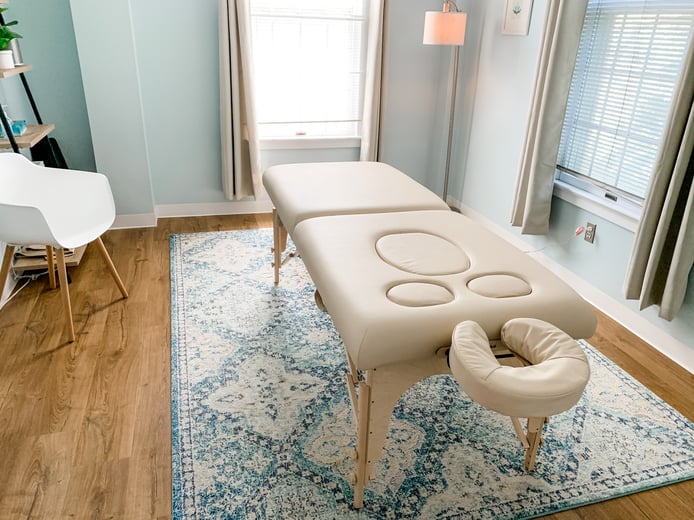 Athena Portable Massage Table with Breast Recesses and Prenatal Cutout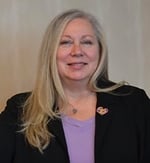 Xerlan Deery, LMT, BCTMB, works part-time at Mainline Health Paoli Hospital Cancer Center and also owns and operates a small, carefully curated private practice named Anatriptic Alchemy with her husband, Christopher. She specializes in working with people who are medically involved. In the hospital setting, she meets people where they are, including chemotherapy infusion suites, the radiation department, and also works with inpatients post surgery for pain management.