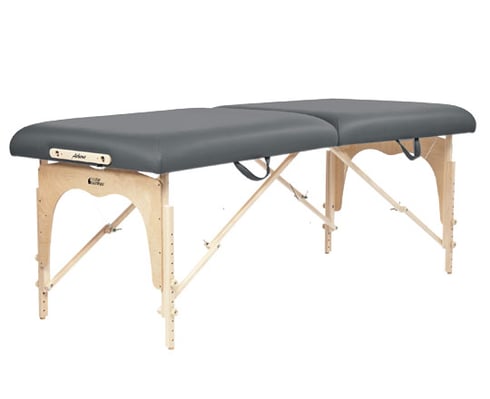 Write a Review
Elite Wellness Inc.
Jen Nahmensen on 3/23/22
"The best massage tables! my first table Athena lasted 15 years doing outcalls almost everyday. I currently own a Challenger and tilt top tables. Excited to spend the next 15 years releasing pain and improving lives on Custom Craftworks tables."
Wellness Works Massage & Healing Touch
Jeanne Thune on 3/23/22
"Love this company and their tables. My first Athena portable table is still going strong for 23 years. First time replacement on the deluxe face cradle and the service to replace was fast and fantastic!!!"
Best customer service.
Kristina Casale on 3/23/22
"I've had my Custom Craftworks table since 2004 and it's still amazing I have had to replace a few parts here and there and was able to buy them straight from the company. Best customer service."
Even now, my clients still sigh "Ahhhhh"...
Charlene Andrelavage on 3/23/22
"I was introduced to the Custom Craftworks massage tables back in 1994 when I started my training in massage therapy. The school had a variety of different brands of tables but I was impressed with the Custom Craftworks' quality and design, I could see the deference underneath the tables. I enjoyed being on the Custom Craftwork tables but really was comfortable massaging fellow students on them. Naturally, when I decided to purchase a table, I chose Custom Craftworks. My Athena massage table is now 25 years young, and it looks, feels and is just as comfortable to work with as it was brand new. Even now, my clients still sigh "AHHH" when they first lay on my table before their massage! A few years ago a regular client, who happens to be a chiropractor, thought I bought a new table when she saw it without linens. She couldn't believe how beautiful it was and how relaxing it was after all those years. My Athena table is used in my home office, but has been my faithful companion for women's retreats, spa days at bed and breakfasts, Project Graduations, open houses and many other special events. I definitely recommend the Custom Craftworks' Athena as a high quality, durable and long lasting massage table. Thank you Custom Craftworks!"
Custom Craftworks quality is impressive.
Sarah Feinstein on 3/23/22
"I LOVE Custom Craftworks! I have the 30'' Athena portable massage table. I actually bought it for myself for my birthday ;) The table is amazing! I have used my fair share of massage tables. People always compliment the comfort of my table when they are on it, the table itself has a good amount of padding, and the face cradle is very high quality and comfortable as well. I love how the face cradle is built, and that it's entirely made of wood. The table I have in particular is 30 inches wide and has a high weight limit, which is perfect for my pregnant people (since I do side-lying). Even though the table is larger at 30 inches wide, thick, and high quality, it is surprisingly light and easy to carry (I started off doing mostly house calls, and used this table). In conclusion, Custom Craftworks quality is impressive, I am very happy with this table, and I would definitely recommend to a friend!"
Forever Blooming Wellness
Katie Blooms on 3/23/22
"I have had my Athena table for 15 years and still love it so much! It is sturdy, extra wide with thick padding and full of love. Just ordered some replacement knobs and I'm sure I'll be enjoying it for many years to come."
Massage Therapist
Heather Waddle on 3/23/22
"I bought my Athena from my massage school in my second trimester of classes. It's held up over 15 years of hard use. I do outcall massage, so it's been opened and closed and shoved in and out of my car an average of 15-20 times a week for 15 years! I've replaced foot pads, cables, patched upholstery with cheetah print tape, and have tooth marks on the end plate from a shih-tzu who found the wood tasty. My clients love the comfort, and I have definitely gotten my money's worth, I'm a Custom Craftworks massage therapist for life!"
Massage Therapist 24
Chie Osuna on 3/23/22
"Not only is the table nice, the bolsters are nice and soft. I ordered a custom made table 11 years ago during massage school and it is still my favorite table among others I have purchased. I appreciate your true quality and pride!"
Massage Therapist
Brenda Fuentes on 3/23/22
I love my massage table! I have been using my table for over 13 yrs and I love have strong it is!! The quality is amazing and so durable it looks like I have just purchase if not to long ago! I got at my school when I started my studies at Olympia Carrier Institute! I always recommend "Custom Craftwork" as one of the most knowledgeable and experts in the crafting of massage product!
Massage Therapist
Kelly Risinger on 3/23/22
"12 years ago I attended Sawyer College in Indiana, that is when I received my Athena custom craft works Massage table!!! I have never seen a table built with such high-quality and I have been in the industry for a long time! I am proud to say that I am still using the same table today and it is still in excellent condition!!! Thank you for making such a trustworthy and reliable product!!!"
Classic Series
Athena Portable Table
Starting at $

667
Inventory Status:
Product Customization Required
Lead Time: 4 Weeks
If you plan to purchase more than one table, please contact Custom Craftworks at 800-627-2387 to calculate the best shipping rates.
More therapists choose the Athena portable table than any other and have over the past two decades. We credit that to its fully customizable and professional design, which helps you feel fresher at the end of the day while still giving clients the massage you intend. Built from premium materials, including North American hard rock maple, American poplar, birch and aircraft-quality cables, this table's unmatched craftsmanship is full of thoughtful, therapist-friendly details. Each Athena table is also rigorously tested to withstand up to 650 pounds of pressure. Face rest sold separately.
Standard Features:
Load Capacity: 650 lbs.
Table weight: 31 lbs. for 28" x 73" or 34 lbs. for 30" x 73"
Shiatsu release cables
Full-length piano hinge
Reiki end panels
Dual-end accessory ports
9" on center face rest ports
Vinyl-Coated aircraft cables
3" Multi-layer foam