There are two universal truths about the massage therapy profession: how passionate massage therapists are about what they do and how physically challenging the work can be. Using good body mechanics and posture, selecting the correct table, and practicing proper massage technique helps to keep therapists healthy and injury-free resulting in a long and rewarding career in massage therapy with less wear and tear on the body.
Here are several tips on what therapists can do to reduce the risk of injury while also increasing their level of work.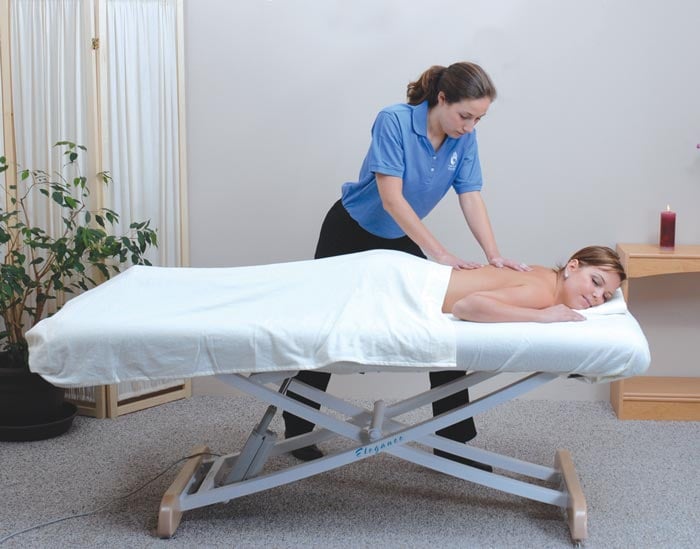 Image via Custom Craftworks
Choose the Correct Table Height
Choosing the appropriate massage table is one of the most important decision a therapist can make. The correct table affords the therapist an opportunity to offer his or her best work for the client, and in turn creates a long lasting and profitable relationship for both the client and therapist.
When preparing for a massage therapy session, make sure to select a table at the proper height. Tables at a higher height equate to reduced low-back bending and a more normal wrist angle. Conversely, lower massage table heights cause the massage therapist to bend over more, transferring their center of gravity forward and increasing the stress on their low back. Additionally, wrist angle while extended becomes greater and increases stress, ultimately reducing grip strength.
A good rule of thumb is to choose a massage table where the top of the table reaches just below the therapist's wrist. Or, simply start with the table at half of the therapist's overall height. Adjust slightly up for longer leg length and slightly down to accommodate a longer torso. Don't select a table that is too wide to prevent excessive reaching.
Purchase an electric massage table to alleviate improper height concerns. With a Custom Craftworks electric massage table, therapists can conveniently raise and lower the table with simply the push of a foot pedal or foot bar. All of Custom Craftworks' electric tables have easy to operate lift systems built for patient comfort and safety and the convenience of the therapist. Our tables raise and lower quietly and efficiently to allow the client to easily and safely get on the table. Bringing the client to a comfortable height is important, and the table height can be adjusted smoothly throughout the massage without interrupting the service.
Images via Custom Craftworks
Use Proper Massage Technique
Just as there are many types of massages, there are also many different massage techniques that are specific to the type of massage needed and results desired. It is important to utilize the right technique including the stroke motion. Whenever possible, it is beneficial to use an uphill stroke. Once proper technique is exhausted, the therapist will lose mechanical advantage and will need to push harder to maintain the correct amount of pressure for the client. Try a bolster to create a "hill" to lean into. Remember when using the forearms, keep hands, fingers and wrists relaxed. Keep the upper arm no more than 45 degrees away from the body. If a longer stroke is needed, take a step forward and then continue the stroke--don't reach with the upper arm.
Continue to learn new massage techniques to avoid repetitive stress, and use tools like Fluid Motion Soft Tissue (FMST) tools to preserve your most valuable tool; your hands. Learning how to work effectively with less stress and strain on the therapist will help to lengthen a career in massage therapy.
Body Mechanics and Posture
Maintain excellent body mechanics and posture meaning a straight back using body weight and legs. Using core strength helps the therapist to stay balanced and in control. Start at the bottom and align your feet perpendicular to the table, and follow with the knees, hips, shoulders, and head. Try using an symmetric stance where one foot is placed forward and the other back for stability. While massaging, face the direction of the stroke with the forward foot matching the arm being used. For example, if the stroke moves left, use the left arm and place the left foot forward. Finally, lean into the client to generate pressure from your core instead of pushing with your muscles.
Wear supportive footwear, use a stool when needed, and consider using an anti-fatigue mat such as Smart Step Wellness Mats to alleviate pain and fatigue from long hours of standing during massage sessions.
Practicing proper body mechanics and posture, choosing the correct table, and using proper massage technique will allow massage therapists to continue to provide the best service for a long and satisfying career.

Originally founded in 1986, Custom Craftworks supports the vital work of professional manual therapists and educators in the massage therapy and holistic health fields by designing, building and sourcing the best-quality massage tables, chairs, equipment and accessories available. In 2009, the company was acquired by Pivotal Health Solutions based in Watertown, South Dakota.