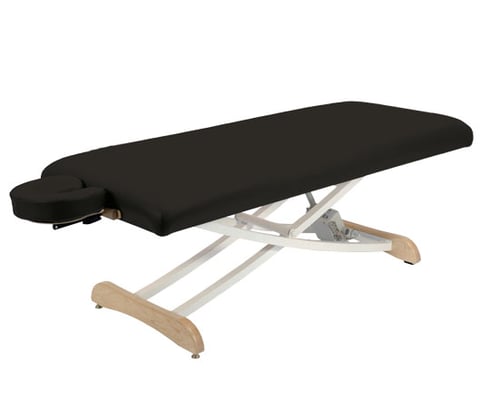 Write a Review
Family Care Acupuncture
Natalie Mich on 3/23/22
"I purchased the 30" Elegance Electric Massage table in Jan 2019, and over a year later, I still absolutely love this table! My patients comment that it feels much more stable and sturdy than the folding massage table I was previously using, and they love being able to easily get on and off the table without using a step, which makes me happy. Clinically, having the ability to constantly adjust the height of the table for various techniques is really indispensable. I work my table very hard and I have never had 1 problem with it since I put it into service. I expanded my clinic, and I am definitely purchasing another Elegance table for my new treatment room! Very good value for a high quality product! Thank you!"
Just purchased my first
Katie Krengle on 3/23/22
"I just purchased my first electric massage table and the customer service was outstanding and I'm so glad I decided to do business with this company!"
Roseville Chiropractic
Dr. Jennifer Cox on 3/23/22
I have purchased the power lift tables with maternity and breast cut outs. I would like to get two more as I will now be purchasing table number 3 and 4. We love your tables and the therapists and clients find them exceptionally comfortable and easy to use.
Phoenixville Massage and Bodywork
Xerlan Deery on 3/22/22
"I love encouraging Massage Therapists to do the right thing and invest in themselves and their business. It never made any sense to me to purchase a table that I knew would only last 3 - 5 years. I planned to be in the profession much longer than that. I use my tables too. I have dragged my Portable Custom Craftworks Prenatal table to University Training Rooms and Backstages at event venues for over 10 years, as well as at least 30 appointments a week, and it is still fine and just like new. Being able to finally purchase the Stationary Electric Lift Custom Craftworks table is a dream come true. It is exactly what I needed. It is ergonomically delightful for me and for my clients. I have been practicing for 24 years. I am sure this table will last for the next 20 years. This table is the only table I have ever found that is perfect for Working with all the client demographics in my practice such as women, athletes, breast cancer survivors, geriatrics and expecting mothers. Everyone loves my table and often ask why don't other Massage Therapists have these? I have even had Physicians, Physical Therapists, Nurses and Athletic Trainers ask this question. You just have to put your money where your hands are!"
Classic Series
Elegance Basic Electric Table
Starting at $

2205
Inventory Status:
Product Customization Required
Lead Time: 4 Weeks
SHIPPING COSTS FOR MULTIPLE TABLES IS AN ESTIMATE ONLY. If you plan to purchase more than one table, please contact Custom Craftworks at 800-627-2387 to calculate the most accurate shipping rates.
ATTENTION: The shipping quoted on the website is for curbside delivery only with a lift gate and notification of impending delivery. If you would like to have your equipment delivered inside or to have "White Glove" delivery services you must contact our customer service team so that it can be properly quoted, as these services cost extra.
We combined stability with style in our Elegance Basic Electric Massage Table. It lifts with ease using a standard single foot pedal, includes a powerful motor that raises up to 550 lb., and features a dual action face rest. Add breast recesses or prenatal options for even greater client comfort.
Standard Features:
Lifting Capacity: 550 lbs.
Height range: 18-34"H
Standard single foot pedal
9" on center dual-end accessory ports
3" Deluxe wrap foam
Elegant styling precision cut steel base
(2) Hidden wheels in stylish wood feet
Whisper quiet lift system
ADA Compliant