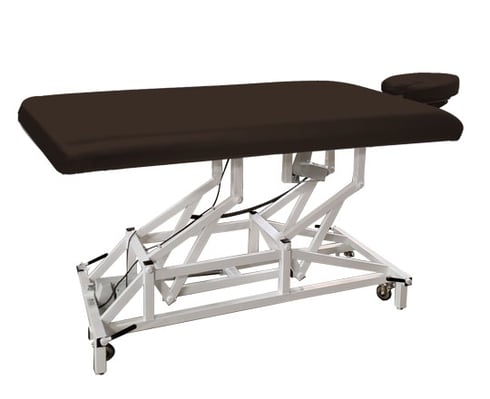 Write a Review
New Seattle Massage Co-op
Mary Ann Kay on 3/22/22
"Your McKenzie power lift table was the first electric table our practice purchased in 2001. Since then we have purchased other brands largely because of price differences. We've had problems with every single one except the Mckenzie which has performed without flaw all these many years in a 25+ therapist practice that's open 12 hrs a day every day."
Classic Series
McKenzie Basic Electric Table
Starting at $

2967
Inventory Status:
Product Customization Required
Lead Time: 4 Weeks
SHIPPING COSTS FOR MULTIPLE TABLES IS AN ESTIMATE ONLY. If you plan to purchase more than one table, please contact Custom Craftworks at 800-627-2387 to calculate the most accurate shipping rates.
ATTENTION: The shipping quoted on the website is for curbside delivery only with a lift gate and notification of impending delivery. If you would like to have your equipment delivered inside or to have "White Glove" delivery services you must contact our customer service team so that it can be properly quoted, as these services cost extra.
With our greatest height range yet, the McKenzie Basic Electric Massage Table raises smoothly and effortlessly from 19 to 38 inches, giving you the most options during treatment. Plus, rock solid construction—complete with retractable wheels—also ensures that clients feel incredibly comfortable and supported at any height.
Standard Features:
Lifting Capacity: 400 lbs.
Height range: 19-38"H
Standard single foot pedal
9" on center dual-end accessory ports
3" Deluxe wrap foam
Precision cut steel base
Retractable wheels
Whisper quiet lift system
ADA Compliant