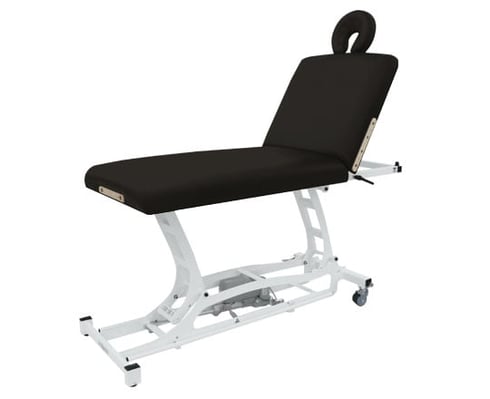 Write a Review
Very happy!
Jennifer Asay on 9/10/23
I just ordered my 3rd table and am super happy with the other 2 I already have. customer service is a huge plus with this company and the tables are great quality
Masterpiece Medical Massage
Karla Linden on 3/23/22
"Masterpiece Medical Massage in Albuquerque, New Mexico owns 4 electric lift Custom Craftworks tables - 3 are the "hands-free" model and our massage therapists LOVE them. Thank you for being so easy to order from, work with, and providing excellent professional equipment. After 32 years as a massage therapist, I feel that Custom Craftworks is the Gold Standard."
Thompson Health
Linda Demme on 3/23/22
"I have recently purchased my second hydraulic lift table from custom craftworks and couldn't be happier. From the product to the service I received, it was all 5 star!"
Medical Massage Therapist
Kirsten Longmeier on 3/23/22
"Very good quality tables! I own three for my medical massage clinic!"
Massage Therapist
Heather Marie on 3/23/22
"The only tables I will buy in the future!! I have purchased 3 of the hands free models for my practice over the past couple years. The fact that you can raise and lower the table while standing anywhere around it is a big deal when your hands are always on the client. Since I have been using these tables, I have less fatigue, my back pain is gone and my clients comment on how professional they are! I also love it for elderly people getting on and off the table and also those in wheelchairs or with other disabilities. BEST tables you can buy!!"
Classic Series
Hands Free Lift Back Electric Table
Starting at $

2956
Inventory Status:
Product Customization Required
Lead Time: 10 Weeks
SHIPPING COSTS FOR MULTIPLE TABLES IS AN ESTIMATE ONLY. If you plan to purchase more than one table, please contact Custom Craftworks at 800-627-2387 to calculate the most accurate shipping rates.
ATTENTION: The shipping quoted on the website is for curbside delivery only with a lift gate and notification of impending delivery. If you would like to have your equipment delivered inside or to have "White Glove" delivery services you must contact our customer service team so that it can be properly quoted, as these services cost extra.
The Classic Series Hands Free Lift Back Electric Table features a manually adjustable lift back that meets the needs of different massage services and allows for multiple positions to keep clients comfortable. Therapists can easily control the height of the table with the hands-free dual foot bar control that is built-in along both bottom sides of the table. Raise the table as you gently push down on it with your foot, and lower as you lift up. Because of the table's design and functionality, therapists can move freely around the table without losing contact with their client. The durable, precision cut steel construction is complete with a whisper quiet lift system and easy-to-operate caster system to make moving the table a breeze. It includes our standard upholstery with 3" foam as well as a dual action face rest and pillow.
Standard Features:
Lifting Capacity: 650 lbs.
Height range: 17-35"
Holes for swivel side arm supports - head end (Side Arm Supports not included)
Hands free dual foot bar control
Whisper quiet lift system
Easy to operate caster system
Lift back cushion
3" Deluxe wrap foam
Durable precision cut steel base
9" on center dual-end accessory ports
ADA compliant