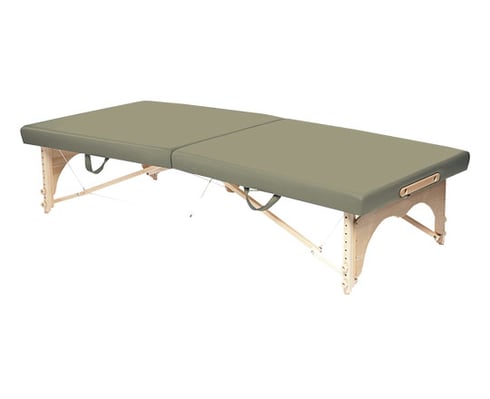 Write a Review
Massage Therapist
Bob C on 3/23/22
"This good fortune could not have been better timed. I generally do not do house calls.A student of mine who had suffered a brain aneurysm several years ago had an excacerbation of her symptoms. She could no longer come to my office for her Feldenkrais table work. The only problem....no table.The Friday after l learned of her problem, I received your email informing me I had won a new massage table. Her aide took the picture of me and this beautiful table in its new home, my student's living room.Thank you so much for the wonderful work you do and for the work it will allow me to do with my student."
Classic Series
Feldenkrais Technique Table
Starting at $

969
Inventory Status:
Product Customization Required
Lead Time: 4 Weeks
If you plan to purchase more than one table, please contact Custom Craftworks at 800-627-2387 to calculate the best shipping rates.
The Feldenkrais method demands an ultra-strong and stable surface for practitioners—and the Feldenkrais portable massage table delivers. Designed, tested and proven by leading Feldenkrais trainers, its special features include a firm 1" foam, Inverted Truss with Cable Lock for tremendous lateral stability combined with snap-open ease of use, and standard low-height range (17 to 25 inches). Our exclusive design is one of the industry's best-selling specialty tables and easily withstands the rigors and movements unique to the Feldenkrais method. Face rest and carry case sold separately.
Standard Features:
Load Capacity: 800 lbs.
Height range: 17-25"
Solid extra rigid birch frame with inverted truss
Cable lock system
Full length piano hinge
Vinyl coated aircraft cables
Dual knobs
Reiki end panels
9" on center dual-end accessory ports
1" Extra firm foam
Add On Options
Classic Series Bolster
The bolster will be the same color as the table being purchased. If the bolster is out of stock, you will be contacted to choose a different color