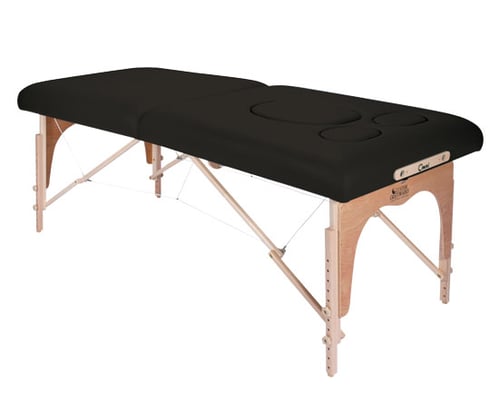 Classic Series
Omni Portable Table
Starting at $

789
Inventory Status:
Product Customization Required
Lead Time: 4 Weeks
If you plan to purchase more than one table, please contact Custom Craftworks at 800-627-2387 to calculate the best shipping rates.
Our extra-strong and easily portable Omni massage table provides stable support for the most vigorous deep tissue body work and sports massage. Tested to 800 pounds, the Omni's superior construction features extra-rigid birch for strength and flex-resistance. A combination of Inverted Truss and Cable-Lock systems provide additional stability and support at all points.
Omni Table Standard Features:
Load Capacity: 800 lbs.
Table weight: 34 lbs. for 28" x 73" or 37 lbs. for 30" x 73"
Shiatsu release cables
Inverted truss
Cable-Lock system
Full-length piano hinge
Reiki end panels
9" on center dual-end accessory ports
Vinyl-Coated aircraft cables
3" Multi-layer foam
MASSAGE UPHOLSTERY
Our standard Massage Upholstery offers on-trend color options that are durable and easily cleaned.
Upgraded True Touch

[Add $164]
TOUCH RESPONSE FOAM SYSTEM:
IF YOU SELECT THIS UPGRADE, PLEASE SELECT A TRUE TOUCH UPHOLSTERY AS IT IS NOT COMPATIBLE WITH STANDARD UPHOLSTERY. Our exclusive Touch Response Memory Foam system is pressure-sensitive and molds quickly to the shape of a body pressing against it returning to its original shape once the pressure is removed. Can facilitate a nurturing/cradling effect during the massage for your client.
HEIGHT RANGE:
Your table should be set at a height that allows you to use your body weight rather than excessive muscular effort. If your table is too high for the required treatment, then your shoulders and upper body will be strained, and if your table is too low, then your lower back will suffer. A therapist should tune into their own experience to discover their personal formula for determining optimal height range.
ROUNDED CORNERS:
Rounded corners add beauty and freedom of movement around your table. Helpful in tight spaces. Some therapists believe energy flows better around a table with no sharp edges.
BREAST RECESSES
Ideal for clients with larger breasts or implants while prone or broad shoulders while supine, our Breast Recesses will greatly increase comfort during massage for both men and women of ALL shapes and sizes. Once therapists begin working with the plugs out, we find that they are rarely put back in. When you do choose put them in, they fit snugly and securely into your table.
PRENATAL:
Prenatal Upgrade includes both breast and stomach cut outs to accommodate tender breast tissue and larger belly of expectant mothers.Includes an adjustable, padded sling for support of the round ligaments in the pelvis.Plugs for both Breast Recesses and belly cut out are included.
SIDE ARM HOLES FOR USE WITH EXTENSIONS:
Add these to your table at the time you order if you want to prepare your custom ordered table for the addition of side arm extensions later but do not yet wish to commit to buying the side arm extensions now. For Flat/Basic Tables Only and the foot end of Prenatal Tables.
CRESCENT FACE HOLE WITH PILLOW AND PLUG:
Our Crescent Face Hole gives you the convenience of a face hole with the comfort and adjustability of our contoured Face Rest Pillow. Use the plug to restore a flat surface.Some therapists like the fact that face holes enable them to position the client's arms above the head, while others appreciate the fact that shorter clients are more readily reached from the foot end of the table.
ADD A SHEET:
White 3 piece Sheet Set (Fitted sheet fits up to a 33"W x 73"L x 7"H massage table cushion)
ADD A CLASSIC SERIES BOLSTER:
The bolster will be the same color as the table being purchased. If the bolster is out of stock, you will be contacted to choose a different color.