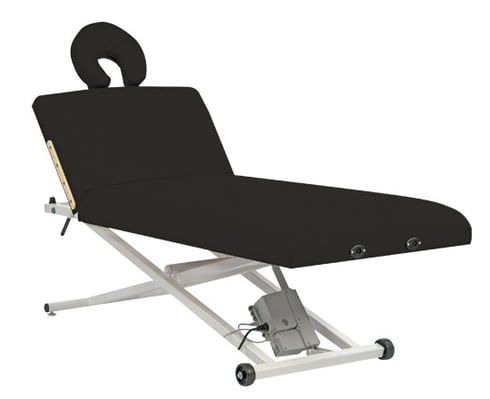 Write a Review
Graceful Healing
Sonya Grace on 3/23/22
"I purchased my Custom Craftworks table in 1997, and its still going strong after a lot of deep tissue massages! The only reason to replace it will be upgrading to a a hydraulic table."
Pacific Body Work
Marta Giulia Cuboni on 3/23/22
"Local, responsive, high quality."
Pro Lift Back Electric Table
Jennifer Kelly Bollinger on 3/23/22
We just purchased our third pro lift back electric table, and can't say enough good things about them. New practitioners, don't cheat yourself with a cheap table, I wish we had bought these years ago. We have a busy chiropractic and acupuncture practice, and use these tables mainly for acupuncture. We love the 33 inch table width option, it accommodates our larger clients instead of using the arm extensions which get inevitably sat on and break (note a massage practitioner might not like having to reach further with the 33 in). To be able to adjust the lift back by millimeters with your fingers is awesome and so easy. Clients can be flat or seated or anywhere in between. And being able to adjust the entire table height by stepping on a foot peddle is priceless as a long time practitioner that spends hours daily standing over patients. Our older, height challenged, disabled, wheelchair bound clients appreciate being able to get on and off the table with safety and ease. Our oldest table is now 3 years and we've had no issues. No peeling leather or table squeaks. The tables are very comfortable , we added a heated pad on ours that clients love, and the pad works fine with the lift back table adjustments. I would never buy another table brand, and highly recommend the quality, durability and reliability of Custom Craftworks tables. And the customer service is excellent . Thank you for making my life/work a little easier Custom Craftworks.
Medical Massage Therapist
Kirsten Longmeier on 3/23/22
"Very good quality tables! I own three for my medical massage clinic!"
Classic Series
Pro Lift Back Electric Table
Starting at $

1998
Inventory Status:
Product Customization Required
Lead Time: 4 Weeks
SHIPPING COSTS FOR MULTIPLE TABLES IS AN ESTIMATE ONLY. If you plan to purchase more than one table, please contact Custom Craftworks at 800-627-2387 to calculate the most accurate shipping rates.
ATTENTION: The shipping quoted on the website is for curbside delivery only with a lift gate and notification of impending delivery. If you would like to have your equipment delivered inside or to have "White Glove" delivery services you must contact our customer service team so that it can be properly quoted, as these services cost extra.
One of our most popular lines since 2009, the Pro Lift Back Electric Massage Table offers smooth, silent lift, superior craftsmanship and excellent value. Our Lift Back model adds the convenience and flexibility of multiple positions with a manual lift back. Choose optional swivel side arms or breast recesses for extra client comfort. The classic design also includes the dual action face rest and pillow (with face rest holes on both ends of the table for added convenience), 3" foam, plus standard single foot pedal for height adjustment.
Standard Features:
Lifting Capacity: 550 lbs.
Height range: 18-34"H
Holes for swivel arm supports - head end (side arm supports not included)
Standard single foot pedal
9" on center dual-end accessory ports
3" Foam with manual lift back cushion
Durable precision cut steel base
Whisper quiet lift system
ADA Compliant