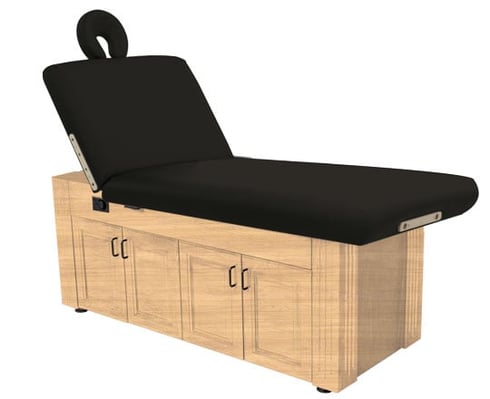 Classic Series
M100 Lift Back Electric Spa Table
Starting at $

3987
Inventory Status:
Product Customization Required
Lead Time: 4 Weeks
SHIPPING COSTS FOR MULTIPLE TABLES IS AN ESTIMATE ONLY. If you plan to purchase more than one table, please contact Custom Craftworks at 800-627-2387 to calculate the most accurate shipping rates.
The M100 Lift Back Electric Spa Table offers convenient electric height adjustments and a manual assist lift-back cushion with 3" multi-layer foam. The built-in toggle switch on the left side maneuvers the table from 27-34" for optimal therapist efficiency. The maple or oak wood base offers a sleek, durable design with two large storage cabinets with adjustable shelving for accessory storage. Add breast recesses and rounded corners for an even more comfortable design.
Standard Features:
Lifting Capacity: 550 lbs.
Electric height adjustment controlled by built-in toggle switch (1 on left side)
Height range: 27-34"
Solid hardwood construction
Large two section storage cabinet with an adjustable shelf in each section
4 Flat panel doors with wire pull handles (doors on left side only - right side is solid)
Holes for swivel side arm extensions - head end (Side arm supports not included)
3" Multi-layer foam
Manually adjusting back
9" on center dual-end accessory ports
Dual action face rest and pillow