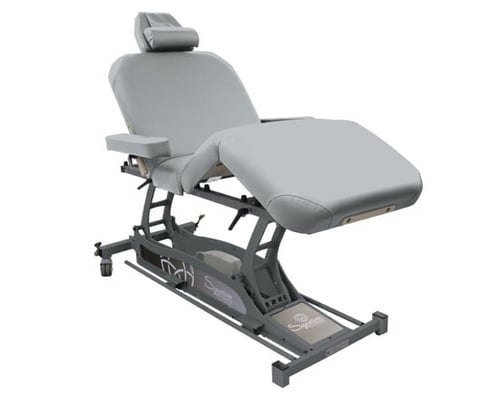 Write a Review
Hands Free Deluxe Electric Table
Cindy Kock Koppatschek on 3/23/22
"I purchased the Signature Spa Series Hands Free Deluxe Electric Table a couple years ago. Love, love, love it. I love their customer service even more. Anytime I have called, purchased or done business, they have always gone above and beyond. Doing business has been a pleasure. Thank you!"
Spa Series
Spa Hands Free Deluxe Electric Table
Starting at $

4492
Inventory Status:
Product Customization Required
Lead Time: 10 Weeks
SHIPPING COSTS FOR MULTIPLE TABLES IS AN ESTIMATE ONLY. If you plan to purchase more than one table, please contact Custom Craftworks at 800-627-2387 to calculate the most accurate shipping rates.
ATTENTION: The shipping quoted on the website is for curbside delivery only with a lift gate and notification of impending delivery. If you would like to have your equipment delivered inside or to have "White Glove" delivery services you must contact our customer service team so that it can be properly quoted, as these services cost extra.
The elegant design of our Spa Series Hands Free Deluxe Electric Table is ideal for spas or practices where style is as important as function. The custom gray base and design plates offer a sleek alternative to our classic base. Efficient foot bars along each side allow therapists to move freely around the table for a more fluid client experience. This series features our most desirable upgrades: Deluxe Adjustable Face Rest Base and True Touch Urethane upholstery in an exciting new color palette. With a 650 lb. lifting capacity, our Spa Series Hands Free Tables prove you really can have it all.
Standard Features:
Lifting Capacity: 650 lbs.
Height range: 17-35"
9" Deluxe adjustable face rest and pillow
Salon head support pillow with adjustable neck pillow
Holes for swivel side arm supports
Swivel side arm supports
Hands free dual foot bar control
Whisper quiet lift system
Easy to operate caster system
Manually adjusting back and knee sections
3" Deluxe wrap foam and deluxe cushion
Rounded corners
Steel base with classic gray powder coat color
9" on center dual-end accessory ports
Natural Touch Upholstery on table, crescent pillow, and swivel side arms
ADA compliant
WARNING: California Proposition 65 Information
---