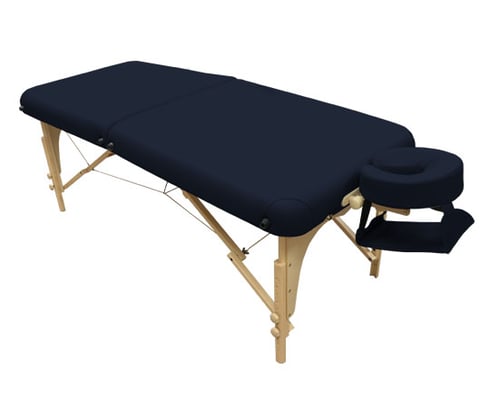 Write a Review
Massage Therapist
Sheila R on 3/23/22
"I received a massage from a former student of the school I am attending-OSM in Salem. I asked him about his table and which features he preferred-which led me to your site! I love the idea of using a product made in Oregon!"
Solutions Series
Heritage Portable Table
Starting at $

380
Inventory Status:
In Stock
Lead Time: 1 Week
If you plan to purchase more than one table, please contact Custom Craftworks at 800-627-2387 to calculate the best shipping rates.
The Heritage table offers rounded corners, dual knobs, a strong and flat working surface, and ergonomically designed Reiki end panels. It also accommodates your knees for mobility all around the table. With the Shiatsu release cables, this table can easily lay flat on the floor. This feature filled table is an unbelievable value and the #1 choice among schools. The Heritage model includes the Solutions classic adjustable face rest with crescent pillow, carry case, and front arm sling.
Standard Features:
Load Capacity: 550 lbs.
30"W x 73"L x 23-34"
Table weight: 35 lbs.
Shiatsu release cables
Solid beech wood frame
Dual knobs
Reiki end panels
8" on center dual-end accessory ports
Rounded corners
3" Multi-layer foam
Table Includes:
Solutions classic adjustable face rest with crescent pillow
Front arm sling
Carry case
Add On Options
Optional Bolster
The bolster will be the same color as the table being purchased. If the bolster is out of stock, you will be contacted to choose a different color.
Optional Sheet Set
White 3 piece Sheet Set (Fitted sheet fits up to a 33"W x 73"L x 7"H massage table cushion)