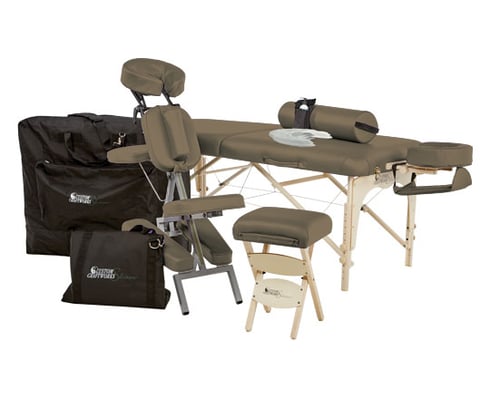 Write a Review
Massage Therapist
Sui Chi Wong on 3/23/22
"I love Custom Craftworks! I was only recently introduced to this brand - where have I been?! Because I realized my life long dream of becoming a massage therapist, I enrolled as a massage therapist student. There at the school, I was introduced to your wonderful line of products. I was so excited that I immediately purchased the business kit in the agate color. It is beautiful! Not only the color, but the quality of the material of the table, massage chair and stool. Yes, even the stool is very well made and comfy. Prior to purchasing, I was told that I should not buy kits because something is going to be cheaply made, but this is absolutely NOT the case. In my kit, I got a lot of goodies as well! I love the disposable headrest covers - great to know they exist and are so convenient. The bottle of Sacred Earth brand of massage lotion is awesome because it has no scent (but you can add scent and is wonderful with it as well), the glide and less to non-staining on linens. I will be reordering. Needless to say, I am a very happy Custom Craftworks customer for life!"
Solutions Series
Heritage Business Basics Kit
Starting at $

692
Inventory Status:
In Stock
Lead Time: 1 Week
If you plan to purchase more than one table package, please contact Custom Craftworks at 800-627-2387 to calculate the best shipping rates.
Start your business with the basics. Our Business Basics Kits combine our affordable and feature-rich portable tables with a massage chair and other functional add-ons. The Heritage table offers rounded corners, dual knobs, a strong and flat working surface, and ergonomically designed Reiki end panels. The Heritage also accommodates your knees for mobility all around the table. With Shiatsu release cables, this table can easily lay flat on the floor. This feature-filled table is an unbelievable value and the #1 choice among schools.
Kit Includes:
Heritage table
Front arm sling, carry case
Solutions classic adjustable face rest with crescent pillow
Melody massage chair with carry case
Wooden folding stool
Round bolster (6" x 26")
Single oil holster
(1) 8 oz. Sacred Earth Botanicals massage lotion
(1) Box of Sani-Cover® Disposables - 50 Covers per Box - White (30 GSM)
Standard Features:
Load Capacity: 550 lbs.
30"W x 73"L x 23-34"
Table weight: 35 lbs.
Shiatsu release cables
Solid beech wood frame
Dual knobs
Reiki end panels
8" on center dual-end accessory ports
Rounded corners
3" Multi-layer foam