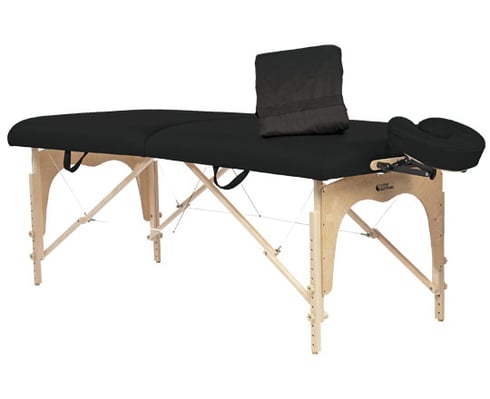 Write a Review
Athena Package
Goldstar 36 on 3/23/22
For years, as a family, we thought about getting a message table. We wanted a well made table, constructed with US materials, and crafted with the best possible engineering. I spent some time, researching, and calling on manufacturers. A few weeks ago, my Mother offered a gift that she socked away for us. So we purchased the Athena package, in the Jade color, at Custom Craftworks. It is an absolutely beautiful table, with support and a cushiony feel for family members of various weights and heights.The construction is succinct, and the weight makes it easy to fold, and put in a corner of our room. I will keep it open and covered most of time.My connection to the company was through Lisa Esposito, the Inside Sales Representative. I felt an immediate sense of trust after talking with her. Her patience, and care, for our family needs was very obvious. After a few days of back and forth, I chose wisely. After a long stressful day, with so many work schedules, I look forward to be the self appointed message therapist, and will learn along the way, how to give a light message, that would relax family members. Thank You Lisa Esposito, and Custom Craft Works.
Customcraftworks Athena massage table
Douglas Spaeth on 3/22/22
"I have used my Athena massage table for twenty years. It has been used extensively in Hawai'i for 4 years, Washington, Kentucky, and 13 years in Texas for hundreds of deep tissue LomiLomi sessions. It is a great, durable, quiet table for the professional massage therapist. Thank you for making my work possible over the last 20 years!"
Classic Series
Athena Essential Package
Starting at $

792
Inventory Status:
Product Customization Required
Lead Time: 5 Weeks
If you plan to purchase more than one table package, please contact Custom Craftworks at 800-627-2387 to calculate the best shipping rates.
For more than 30 years, therapists have chosen the Athena portable massage table more than any other. Our Essential Package can help you to get started by combining our popular, Classic Series Athena table with a convenient carry case and dual-action face rest with pillow.
Package Includes:
Classic Series Athena Table
Carry case
Dual action face rest with pillow
Standard Features:
Load Capacity: 650 lbs.
Table weight: 31 lbs. for 28" x 73" / 34 lbs. for 30" x 73"
Width: 28" or 30", Length: 73"
Height range: 25-35"
Shiatsu release cables
Full-length piano hinge
Reiki end panels
9" on center dual-end accessory ports
Vinyl-coated aircraft cables
3" Multi-layer foam
WARNING: California Proposition 65 Information